The Wonder Wheel of GOOP
How to spin a single product into an empire
I write weekly newsletter about how the new forms of social, cultural, and environmental capital change brand strategy. If you enjoy this issue, please like it above, share it with anyone you think may find it useful, and subscribe below: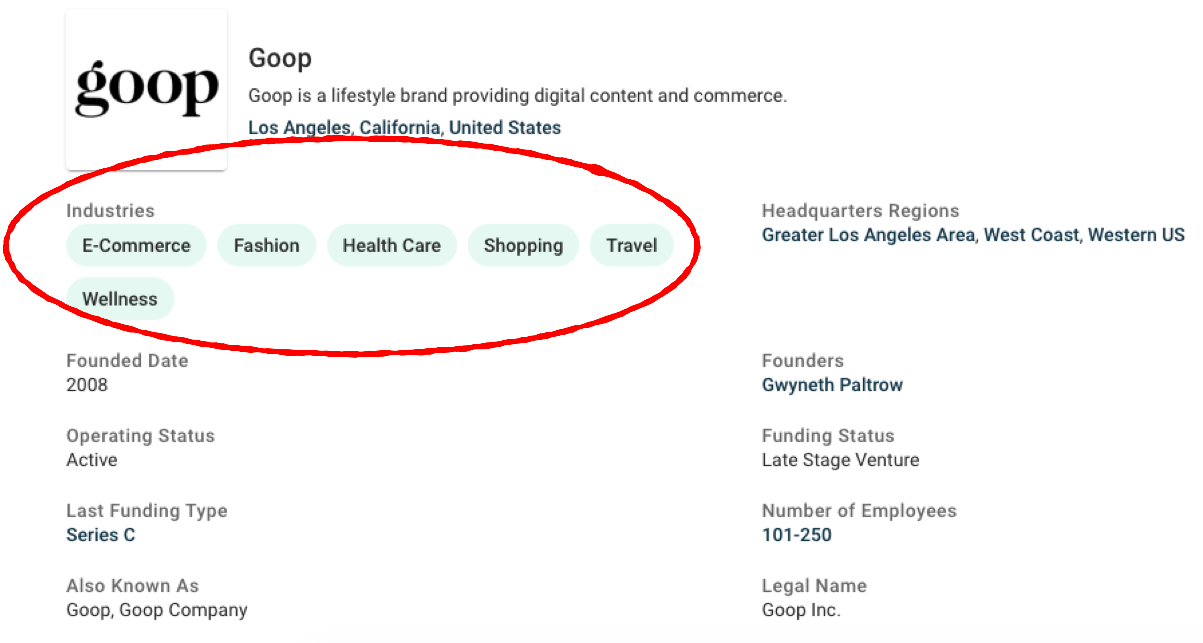 The Wonder Wheel model is when a business expands from the first product that's made it known, and thrives beyond it by entering into products and services from other categories. Unlike in the Diamond and Galaxy models, products in the Wonder Wheel do not decrease in quality or price level, but stay consistent. Example of this model is Muji, which started from forty products sold in the supermarket chain The Seiyu, Ltd. in 1980. Mujorushi Ryōhin ("no brand quality goods") then expanded to its own store in 1983 and the current 7000 products, a Muji hut, a hotel in Beijing, Shenzhen, and Tokyo, a car, a cafe, and food. (MUJI's expansion recently came to a halt, as the retailer filed for bankruptcy in the US. Apparently, Muji neglected to invest in a robust online presence, and the onset of the pandemic didn't help).
Muji's Wonder Wheel spins according to its brand philosophy of "Muji is enough," which is consistently implemented across product design, color range, selection of materials, streamlined manufacturing process, and minimal packaging. There's a clear aesthetic and functional link between a Muji hotel and a Muji store below it in Ginza, and between all Muji products and, for example, the Muji house. They all share the same ethos of minimalist Japanese lifestyle, quality, and sensible pricing.
Another example of the Wonder Wheel is Marie Kondo, a business that started from Kondo's book "The Life-Changing Magic of Tidying Up" and expanded to a consulting service, a TV show (Netflix's Tidying Up with Marie Kondo), and an online store. The Marie Kondo Wonder Wheel is held together not by Kondo's personality, as is the case with the Galaxy Model, but by the Japanese art of decluttering and the goal to "help more people live a life that sparks joy." The Wheel revolves around creating room for "meaningful objects, people and experiences" and offering consumers tools and services to help them surround themselves with objects they love.
The Wonder Wheel model is also applied when a service creates a product (e.g. Food52, Barbara Sturm), when a media company launches e-commerce (Highsnobiety), or when a retailer creates an experience (Restoration Hardware Restaurant or Shinola Hotel). Rimowa started from a single product, and is now, as part of LVMH, progressively building its product range to include sunglasses and collaborations. More recently, we have seen restaurants getting into food delivery, grocery, cutlery, and meal boxes business.
Unlike the Galaxy Model, the Wonder Wheel Model has a proto-product as its anchor. (Even Marie Kondo is not at the center of her Wonder Wheel, her tidying up approach is). This product is the original embodiment of the brand philosophy and a lifestyle that a brand wants to reflect. This same philosophy expands across all new product and service categories that are added over time. The Wonder Wheel companies constantly optimize their core commercial capabilities in sales, marketing, pricing, and customer experience. Strategic adding of new products once the proto-products are already established and successful contributes to the fast brand growth - as long as they are all perceived as part of the same wheel. 
The Wonder Wheel of Goop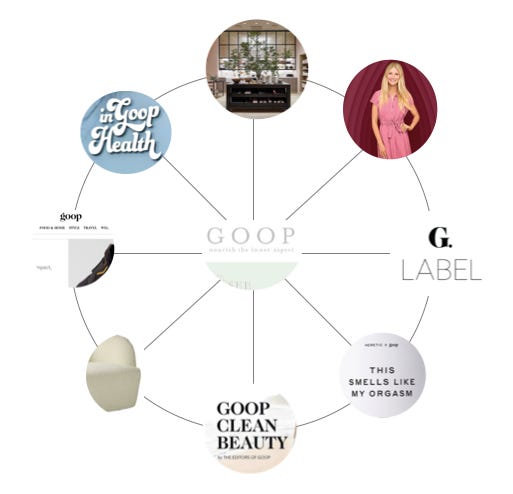 Goop is a $250M modern lifestyle brand that abstracted itself from the original product that's made it known - a newsletter - and now thrives far and wide beyond it by strategically adding new products, services and experiences. At its center is the philosophy of wellness: of the importance of self-care and self-actualization and the tools that get us there. The wheel spins thanks to the constant innovation of the new ways to take care of ourselves and tireless exploration of the next best wellness thing. "We try things so you don't have to," noted Goop's founder, Gwyneth Palthrow. Today, GOOP is an online and offline retail aggregator, an apparel label, a magazine and book publisher, a Netflix TV series, a CB2 and Banana Republic collaborator, a podcast, an events company, a service, and a hub for "thoroughly researched" health information. Growth opportunities for Goop's Wonder Wheel are endless, as is our desire to look young, expand our consciousness, and live forever.