Unlocking Strategic Growth
Five models for modern brands to create product portfolios, expand into new categories, saturate their market, and protect their pricing power
I write weekly newsletter about how the new forms of social, cultural, and environmental capital change brand strategy. If you enjoy this issue, please like it above, share it with anyone you think may find it useful, and subscribe below: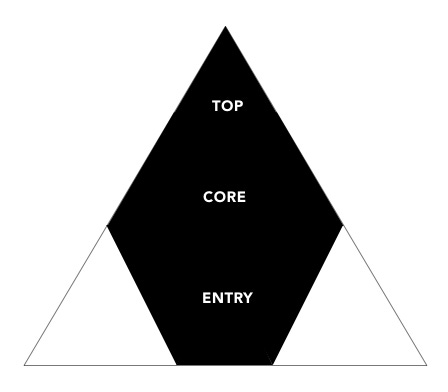 Brand strategy is the way by which brands create and deliver value to their customers, convince them to pay for this value, and harness their payments into profit. Business models power brand strategy, based on the specific value proposition made to clients and the value architecture that's created around it. 
It's important for companies to select their brand strategy early, because a clear brand strategy charts the trajectory of brand growth. For example, a brand strategy can be optimized for a quick growth (Uber), for creating a monopoly (Google), for undermining competition through lower pricing (Zara), for creating strong symbolic capital (Apple), for remaking a category (Warby Parker), for establishing itself as a status symbol (Tesla), or for something else.
Brand strategy prioritizes a company's products and services, defines and protects the price, and focuses audience segmentation and communication. It ensures that there is coherence in the brand growth, and a plan around entering new categories and markets. Brand strategy directs product and brand extensions, and guides the market share expansion. Brand strategy answers questions like, "what is good for my brand long-term?", "how is this business decision going to impact our culture?", "what are the main objectives of this product line or brand extension (awareness, acquisition, loyalty)?" or, "how is this product line or brand extension part of my big plan?"
Brand strategy streamlines decision-making. It makes sure that all products express the brand values and reinforce the brand identity in a differentiated yet consistent way. For example, Danny Meyer's restaurants are all different, but consistent in how they deliver the power of hospitality through service excellence, welcoming experience, and product quality. Brand strategy is a standardized and structured process for adding value through investing in the already successful model (e.g. Shake Shack), optimizing performance (e.g. pick-up and delivery), or investing in creativity (e.g. Shake ShackBurger Kit).
So far, companies have been really good in creating business models and brand strategies around economic value. They have a lofty goal of building brands so strong that everyone would want to wear a t-shirt with its logo on it, yet are still trapped in the manufacturing mindset, focused on monetization, efficiency, and productivity growth. There's a disconnect in the value they aspire to capture and the value they're actually capturing. 
To close this gap, I devised five brand strategy models and their underlying business architectures. Some of these models already existed in some form, and I adapted them to the modern brand landscape; others I came up with. The job of these models is to guide companies to create symbolic value and turn it into business value. They explain how a brand expands into new product and service categories and how brand portfolios operate. They aim to reconcile business growth and brand culture, and represent different growth trajectories.
The five models are: the Diamond Model, the Galaxy Model, the Wonder Wheel model, the Reverse Pyramid model, and the DJ model. Over the course of the upcoming weeks, I will explore each in detail, starting with the Diamond Model.
The Diamond Model
The Diamond Model has three levels: top, core, and entry. In contrast to the traditional pyramid model, products and/or services at the bottom do not diminish in quality compared to the core. They are not "masstige." Core layer is one of the potential brand expressions. Its value promise and the brand experience are consistent with all other layers. 
At the top, the diamond model features limited editions, special collections, small product series, and/or limited distribution that are still considered part of the same brand space and that share the brand identity with the core and the entry levels. 
At the core of the diamond model can be either the brand's original offering (both the top and the entry products are extended from it) or the offering with a common thread or theme, like art or a specific lifestyle. The core has a more selective and/or controlled distribution than the entry level.
The levels are all part of the same brand territory, but adhere to the different audience segmentation criteria. For example, Disney has Marvel, Lucasfilm, Pixar, ESPN, Touchstone Pictures, etc. all of which appeal to different audiences based on their demographic, psychographic, and consumer motivations and expected benefits. By offering a range of entertainment options, Disney single handedly meets market demands and creates a massive barrier to entry for anyone else.
Example: Union Square Hospitality Group
There are 22 restaurants in Danny Meyer's Union Square Hospitality Group (at the moment), plus Shake Shack until 2015. Danny Meyer is known for his philosophy of "enlightened hospitality," which is consistently expressed throughout his numerous properties. At its core is making people who visit feel good and "leave a little happier," no matter whether they were in Blue Smoke or in Manhatta. Meyer's book, "Setting the Table," grew out of the USHG's culture playbook, which emphasizes importance of hiring people with "a natural impulse to take care of others," fostering genuine human connections with guests, talent diversity (apparently, this didn't apply to racial diversity), and treating hospitality as a team sport. 
Meyer came up with HQ (hospitality quotient), featuring six emotional skills. These can double up as overarching USHG brand values: being kind and optimistic; having intellectual curiosity; a strong work ethic; having empathy; having self-awareness; and having integrity.
USHG's perhaps greatest invention was figuring out how to scale culture by translating it into his multiplying restaurant brands. "I look at culture like a shark," he said. "It has to move forward or it does. You don't want to maintain culture. You want to always be growing it." In order for its culture to evolve, USHG had to grow. This growth came from cultivating regulars, making each of his restaurants different in terms of decor and menu, and having an end goal of "being essential" in their customers' lives. 
USGH restaurants are organized according to The Diamond Model (see chart above). The group organized its portfolio so it offers a complete dining range to its customers, with a restaurant for each of the different market sectors (from Michelin-starred Union Square Cafe and The Modern to Cafe Marchio). The market segmentation is simultaneously demographic (Tacocina vs. Manhatta), psychographic (Maialino vs. Untitled), and by benefits (status vs. convenience, for example). USHG created differentiated products (menus) and differentiated brands (decor), but united them through the same "enlightened hospitality" values and identity.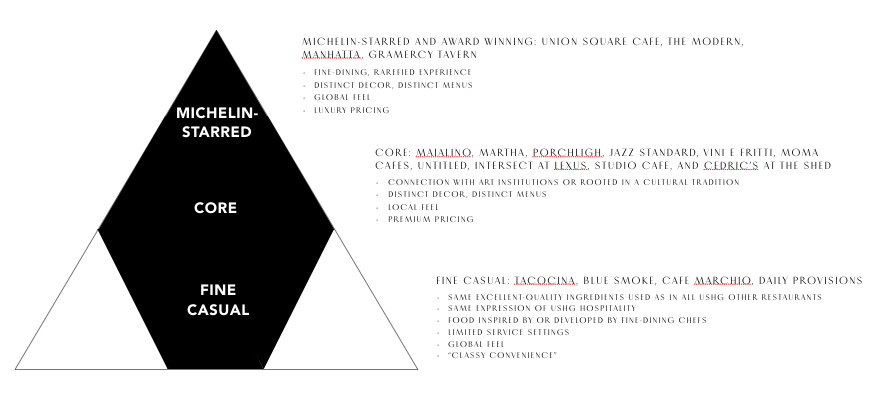 Top: Michelin-Starred and Award Winning: Union Square Cafe, The Modern, Manhatta, Gramercy Tavern
Fine-dining, rarefied experience

Distinct decor, distinct menus

Global feel

Luxury pricing
Core: Maialino, Martha, Porchlight, Jazz Stanrad, Vini e Fritti, MoMA cafes, Untitled, Intersect at Lexus, Studio Cafe, and Cedric's at The Shed
Connection with art institutions or rooted in a cultural tradition

Distinct decor, distinct menus

Local feel

Premium pricing
Fine Casual: Tacocina, Blue Smoke, Cafe Marchio, Daily Provisions
Same quality ingredients used as in all other USHG restaurants

Food inspired by or developed by fine-dining chefs

Limited service settings

Global feel

"Classy Convenience"

---

Yancey Strickler, co-founder and the former CEO of Kickstarter, and the author of This Could Be Our Future: A Manifesto for a More Generous World and I spoke about how to make meaning as a brand (and an individual) in 2020, what are some of the good examples and mechanisms for creating meaning, and what is meaning today tied to. Watch below the story of how Yancey and I met, why we decided to have this conversation, and the questions and observations we shared with each other: