Big fashion's niche future 🙌
To survive, mass fashion brands need to break themselves up
I write weekly newsletter about how the new forms of social, cultural, and environmental capital change brand strategy. It has been selected as one of the best single-operator newsletters on the Internet. If you enjoy this issue, you can pre-order my book, share this newsletter with anyone you think may find it useful, and subscribe below: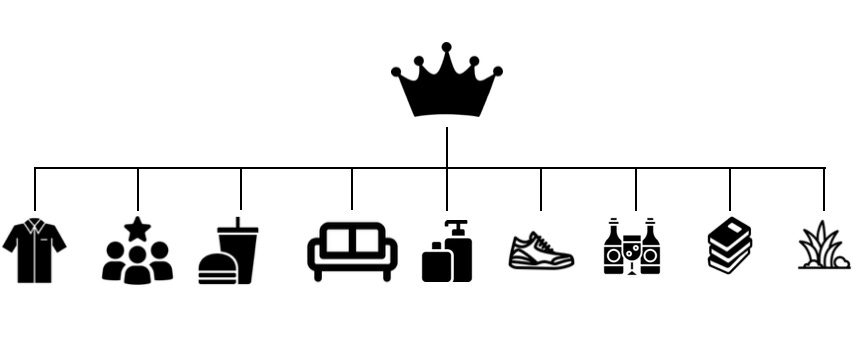 For those who are new to Sociology of Business and also for those who missed last week's edition on how buyer value creates brand differentiation in the sea of sameness, you can check it out here.
Much has been said about the decline of American mass fashion brands. There's an entire genre of debate around what J.Crew, Ann Taylor, Express, American Eagle Outfitters, Hollister or Tommy Hilfiger can do to revive themselves. Some analysts suggest they should evolve their values, which is undoubtedly true. Others point at changing trends and tastes, which is how fashion operates anyway. Yet others talk about the need to modernize their retail and build their sustainability and community credentials.
Critics challenge mass fashion brands on account of their size, taste or lack of focus. They suggest that the format can be fixed, only if X did Y.
It can't. Anyone who has recently entered a store, offline or online, of any of the retailers above can attest to it. Even if these brands "fix" what they stand for, sharpen their focus, modernize their retail and their values, they would still not recapture their previous cultural and economic glory.
To save these brands is to break them up and turn them into portfolios of smaller and independent sub-brands. In this scenario, a mass fashion brand can become a house of brands, a brand family, or an endorsing brand. E.g. instead of J.Crew, there is the House of J.Crew. Its portfolio is a selection of a number of smaller, independent sub-brands. This portfolio is not random, but strategic and it reflects the House's path to market domination. Each brand in the portfolio has a distinct place and clearly defined role.
Mature markets regularly have many different segments, which a single brand cannot successfully capture without losing its identity. In order to address different market segments and serve the market as a whole, a house of brands uses its portfolio to build multiple presence and differentiate its offerings. These offerings meet segmented market demand in a more personalized way than a single mass brand can. 
Through its portfolio, a house of brands increases its hold on the market and fends off new market entrants by putting forward a full range of offerings (e.g. streetwear, premium, middle-range, entry-level, money-saver, high-end, collaborations, but also other categories, like beauty, interior design, condiments, books, furniture). A house of brands is a platform for a roster of new and emerging designers, each bringing forth their aesthetic and design sensibilities.
This portfolio approach encourages intrapreneurship, where teams are freer to innovate, test against consumer preferences and renew their brand's relevance and differentiation. It also reduces the giant fixed costs of running the mass brand business. Operations, utilities, payroll, real estate, technology are all costly. Breaking them up allows them to be managed in a cheaper, more responsive and a more nimble way.
There are two macro-shifts powering this approach.
Taste communities and fragmentation of taste. Challenge of the American mass fashion brands is not only that they put forward the obsolete set of values or irrelevant style. It is that there is no longer one predominant set of values or style.
Our tastes are ever more niche. We gravitate towards communities and brands, or both, that cater to our niche tastes. Tracksmith, Telfar, Crown Affair or FatherFoods are some of the examples. In this micro-taste communities' landscape, mass fashion brands come across as too generic and superficial. The winning growth strategy instead is to go deep and narrow and and to achieve scale and wide reach by aggregating niches. 
The portfolio of brands that cater to niches is built around: a) hobbies, lifestyles and interests, b) price, c) channels, d) perceived benefits (status and prestige, health and wellness, affordability) or e) values. Each brand in the portfolio focuses on a specific type of customer and gives them the superior selection of choices within that vertical. 
In the media and entertainment sector, this growth strategy allowed Netflix to create a global market made out of niche taste communities. Thanks to personalization, Netflix is able to reach the mass audience while keeping product differentiation in its entertainment portfolio. Just as my Netflix is not the same as yours, a single mass fashion brand cannot meet diverse market demand unless it's operated as a portfolio. Successful portfolios have a point of view, a set of values and a filter that its brands reflect. The galaxy of Kanye, the wonder wheel of GOOP, and the diamond model of USHG are some of the new growth formats.
Curation. The portfolio of brands is held together through curation. Curation is applied at the level of online and offline stores, in marketing messaging, but also throughout the entire value chain, in the selection of suppliers, producers, designers, collaborators and retail partners. A clear in-store narrative and the thematic, frequently changing offerings aim to create harmony across the entire portfolio and make it feel like a coherent whole. As Rei Kawakubo told Dazeen in 2018: "I want to create a kind of market where various creators from various fields gather together and encounter each other in an ongoing atmosphere of beautiful chaos." This is a good model, and it does not limit a house's portfolio just to fashion: it opens it up to furniture, interior design, beauty, food, vintage, books, spirits or experiences. It presents a house as a tastemaker and a cultural voice. It allows brands in its portfolio to move faster, transmit future trends and taste, and not be followers of existing tastes and trends. Portfolio brands become harder to imitate, because they now belong to a curated aesthetic world and have a strong cultural association. Curation protects the entire portfolio's pricing power and profit. Curation becomes the core product that a house of brands is selling.
Benefit of a portfolio is that it categorizes a brand offering. A portfolio reduces the number of options that the consumer faces, preventing the negative effects of the choice overload. It  also organizes options in a nimble and responsive manner. If some parts of the portfolio are underperfoming, they can be fixed or liquidated faster, without jeopardizing the house and the rest of its portfolio.
---
The other week, while in Mexico City, I spoke with Chris Black and Jason Stewart of the now-legendary How Long Gone podcast. It was a lively and insanely funny exchange, and we also managed to analyze the cultural phenomena like the rise of micro-communities, taste bubbles, the end of cultural icons, Bushwick Birkins, fake Cartier and my new book, the Business of Aspiration, which is about how to make money off taste.
Listen to the episode here and rest assured that you will laugh (occasionally hysterically), hear smart observations and hot takes, and definitely be inspired hear more from all three of us.

---
My book comes out on October 27th. It's about what happened to taste, communities, and social influence when the economy shifted from manufacturing things to manufacturing aspiration. It's also about how this shift changes what we find valuable and worth paying for and how brands should transform their strategies to adapt. You can pre-order here or check out the book's website here.