Differentiation in the sea of sameness 👑
Why differentiated and durable brands are rare
I write weekly newsletter about how the new forms of social, cultural, and environmental capital change brand strategy. It has been selected as one of the best single-operator newsletters on the Internet. If you enjoy this issue, you can pre-order my book, share this newsletter with anyone you think may find it useful, and subscribe below: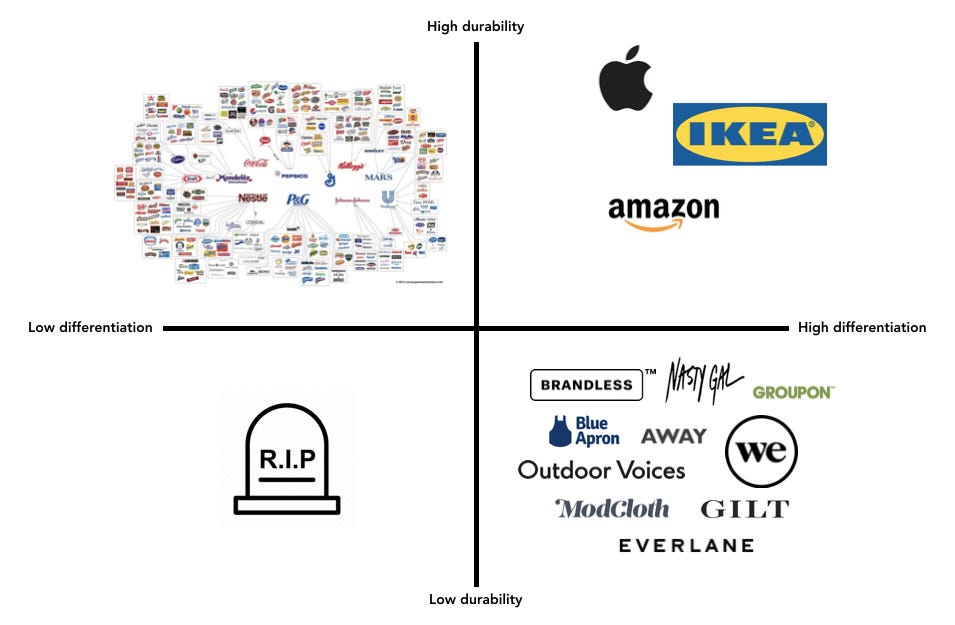 Last week, I wrote about value innovation and what modern brands can learn from Häagen-Dazs. This is the second part of that analysis.
Brands that enjoy quick growth rarely think about what will happen when this growth slows down. It inevitably does: coveted markets, like luggage and travel accessories and apparel get saturated as new entrants and legacy players set to capture the opportunity.
First-movers, unless they act quickly to build economies of scale and capitalize on their initial investments may find themselves stuck with disappointing IPOs and diminishing market share.
In the economy where supply exceeds demand, the best way toward long-term growth is to avoid competitive strategy altogether. Aspirational economy is not a zero-sum game.
Instead, better is to focus on creating and nurturing brand differentiation in the eyes of the consumer, through creation of buyer value. Buyer value protects a brand's pricing power, as consumers are willing to pay premium for value they think they cannot get anywhere else. In saturated markets, the goal is to increase a brand's market not in volume, but in value.
This consumer-centric growth strategy gives brands two advantages: first, it ensures that a brand grows through existing customers instead of pouring all its money in the paid acquisition of new customers. A brand becomes more valuable to the existing customers as the time goes on, through CRM, personalization, subscription, membership, experiential benefits and new products and new use scenarios.
Second, the consumer-centric growth strategy ensures that a brand grows through creating new buyer value and not through imitating competition. New buyer value makes competition irrelevant.
Buyer value is the fastest way to increase returns, after paying the fixed costs of developing e.g. exclusive content, curation, membership, subscription program, collaborations or community management. If it succeeds in creating buyer value, a brand can ride on a lot of word-of-mouth praise (think Brightland), and can spend very little on advertising.
There are two questions in creating buyer value that a brand needs to answer. First is whether a brand is offering its customers radically superior value: is it creating a new market, is it creating a new use scenario, is it redefining what consumers want to pay for. Second is whether a brand is offering its value at a price level accessible to the majority of buyers in its target market.
Having a buyer-value strategy is even more pressing in the aspirational economy, where consumers consider and evaluate products together with experiences, services, access, socializing, self-actualization. To stand out in the long term, brands need to reach beyond their actual targets and build strong brand familiarity with non-customers, who do not own or consider the brand yet.
Here are some examples.
High differentiation, high durability. Apple, Amazon, IKEA are some of the companies that belong to the high growth, high durability segment. They put forward the totally new way of doing things in their respective categories, and create a radically new buyer value (e.g. access to well-designed, affordable furniture; extreme shopping convenience; reinventing consumer electronics). In all of these cases, new buyer value creates consumer desire and brand monopoly, with a brand becoming the market standard. High differentiation and high durability is secured by constantly repeated advantages through new products and line extensions (Apple Mac, iPod, iPhone, iPad, iTunes; IKEA collaborations; Amazon Luxury). Every new product and line extension leads to more sales, to new consumers and to the reevaluation of the consumer's overall brand perception, as I explored in depth in my analysis The DJ Model of IKEA.
High differentiation, low durability. There's a lot of fashion, luxury, travel and entertainment brands and the entire genre of DTC brands that are very much talked about for a moment, only to fade into obscurity/low consumer preference once the negative effects of their fractured internal cultures, lack of new funding/revenue, lack of brand-building or a simple change of taste kicked in. These brands enjoy a temporary differentiation that's been built around newness, trendiness, fresh tone of voice and visual handwriting and hyped up by media and PR. But they never manage to evolve beyond. Their differentiation is only relative to their competition, and therefore short term. Examples include, but are not limited to: Pierre Cardin, Juicy Couture, Fiorucci, FUBU, Baby Phat, Nasty Gal, Groupon, Away, Everlane, Brandless, Outdoor Voices, Modcloth, Blue Apron, WeWork.
Low differentiation, high durability. Entire categories (CPG, automotive, consumer electronics, pet care, alcohol, entertainment, travel, beauty, fashion, music, sports, toys and game) are made of brands that are very similar to each other, but that have staying power. These brands compete on incremental innovation, imitation, marginally better quality, price, and advertising. They are reactive to their competitors' moves, and their priority is staying in the game, not reinventing the game or creating a new one.
Low differentiation, low durability. Brand graveyard.
The table below details market saturation, per category. Source.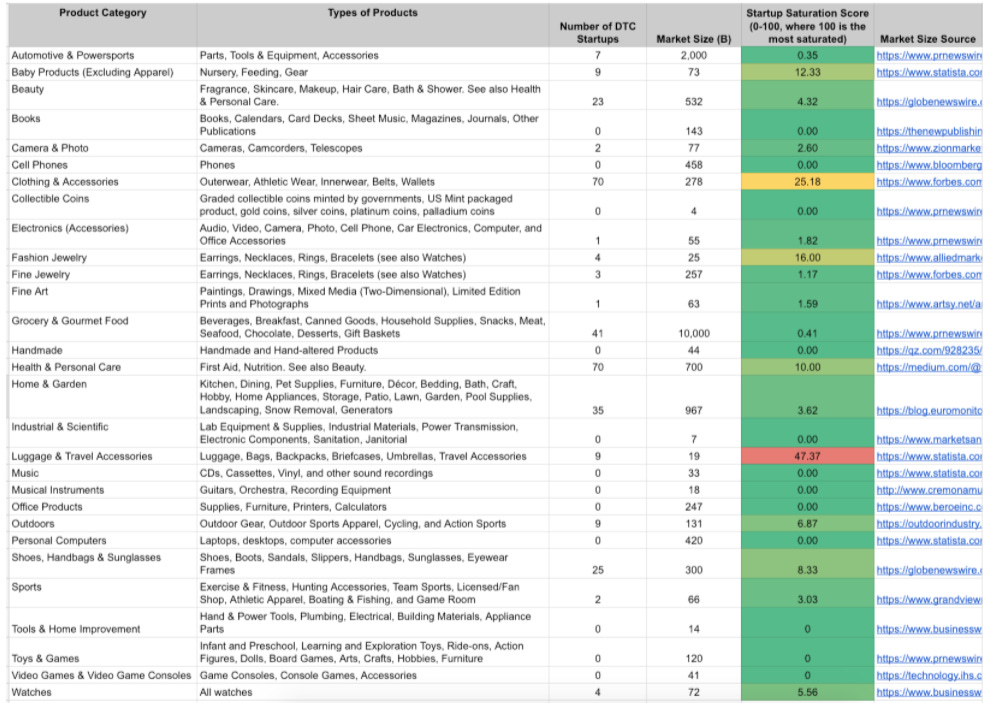 Next week, I will analyze why the only way for mass fashion brands to survive is to break themselves up.
---
The other week, I had a pleasure of being a guest at Rachel Mercer and Shann Biglione's fantastic podcast, The Overthinkers. In each episode, Rachel and Shann (and guests) unpack a different aspect of brand and business strategy and explore what it means in theory and in practice. We talked about the recent onslaught of products (usually in the DTC format) with pretty polished brand identities and that try to fast track the value of their branding:
"This week, we are joined by Ana Andjelic, strategy executive and author of "The Business of Aspiration", to discuss (and sometimes even debate a little!) what makes a brand a strong asset to a business."
Listen to our conversation below or here.
---
My book comes out on October 27th. It's about what happened to taste, communities, and social influence when the economy shifted from manufacturing things to manufacturing aspiration. It's also about how this shift changes what we find valuable and worth paying for and how brands should transform their strategies to adapt. You can pre-order here or check out the book's website here.