Move Over Influencers, Here Come Curators
Curation is the fuel of the modern aspiration economy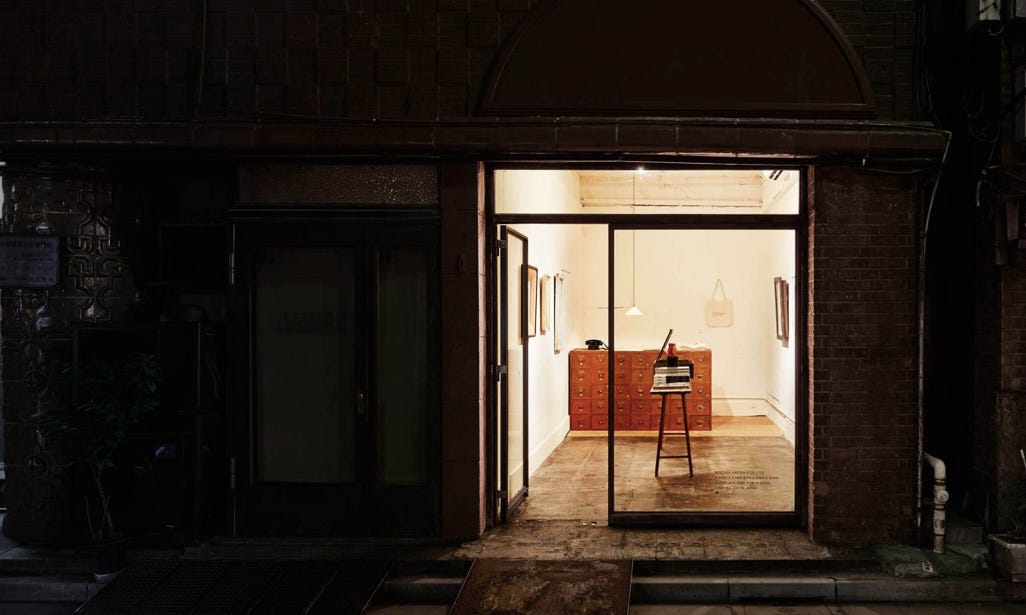 There's a bookstore in Ginza that sells only one book. "A single room with a single book" is its tagline. Every week, the owner chooses the book, presents it in the center of the shop, and curates an exhibition with artworks, photographs, or related items around its subject matter. Entering his bookstore is like entering a book.
In a less extreme scenario in the West, indie bookstores are thriving. The keyword is curation: by default, independent bookstores are local and community-oriented, and they get to know the taste of their regulars and the mood of the neighborhood. 
Getting the taste and the mood makes indie bookstores a good model for the modern aspiration economy. Modern aspiration is not about having money to buy things, but having taste to know what to buy. That's where human curation comes in, and why it's increasingly considered both a differentiator in fashion, food, travel, wellness, design, and an important value-add for tech platforms from Spotify to Netflix and HBO to Facebook and Apple. 
Tsundoku is a Japanese word for the uncomfortable feeling of having too many books to read. It's also the MO of contemporary life. There are more than 75 startups looking to improve and streamline pet care. Industries as diverse as bedding, cookware, mattresses, makeup, fertility, apparel, dentistry, personal care, etc. are all overflowing with options. 
In this context, knowledge and judgement and taste are valuable. We trust curators because we believe that they spent time and effort in developing their expertise. This belief seeped from the art world into the aspirational economy, with the new breed of aspirants looking to share their taste and turn their social and cultural capital into the economic one. 
With a good reason, too: being a coveted curator of a cultural niche (e.g. menswear, streetwear, luxury fashion, design, food or travel) conveys one's distinction and social standing based on more than posing on a cobblestone street in a selected outfit. It takes taste and knowledge to pick stuff up at Frieze in LA, Salone di Mobile in Milan, Paris fashion week, or where to eat in Berlin or Osaka or Abu Dhabi. 
Knowing where to go and what to do is the currency that, in the modern aspiration economy, makes curators more important than influencers. They guide their audience through culture by putting forward a selection of images, references, codes, product releases, or memes. Curation gives even mundane objects value by connecting them with a point of view, heritage, a subculture or purpose that makes them stand out in the vortex of speed, superficiality, and newness.
Unlike influencers, curators often choose to remain anonymous as a way of boosting their cred. They are also not after the sheer reach and volume of followers: in their niches, it's the quality of followers that count. Hidden.NY is an anonymous curatorial account followed by Virgil Abloh and Drake. The mechanism through which curators shape culture is by becoming a source of inspiration for wider trends. 
Making something part of a curated selection lets brands increase the price and the profit. A product's value is attached to the story. The Row's Instagram account is a careful selection of architecture, furniture, sculpture, and art, all of which convey an atmosphere. The idea is to present the Row's clothes as just one expression of The Row's rarified taste and point of view.
For a brand (or a person) looking to become a curator, here are the 4 starting points:
Define what you're trying to accomplish (business objective). Decide what will curating achieve for you. For a brand, curation can retain an audience and attract the new one that hasn't considered a brand before. It can attract a collaborator or start a brand partnership. It can increase product value and protect pricing. For an individual, curation can be a way to get into a creative profession or monetize their taste.
Define the point of view and the story you're trying to tell (brand objective). Root your curation in one of the modes described below, and clearly define a filter that will distinguish things and behaviors that you focus on, and those that you don't. Decide and specify what makes your curation distinct and what is the inimitable aspect of your own experience.
Define how you are going to convey this story (strategy). Identify the sources of the material (products, videos, memes, references, images) for your curation. Define the sub-themes or sub-categories that enforce your wider narrative. Organize them according to your filter and clearly convey why they made the selection. Keep in mind that every item needs to tell the same story as the entire narrative. 
Make an execution plan. Define the when and how often you will share, and how you'll socialize your selection and nurture your community. Decide who you'd like to attract.
There is a number of ways for brands to implement curation, and here are some of the mechanisms to select and organize items by:
Values. Filtering brands within a category based on their values (gender equality, sustainability, diversity) makes it easier to make a decision between products with similar properties. For example, The Helm is a platform that curates only products by brands with female founders, across categories. The Helm's tagline is "Make It Easy to Invest in Women," and indeed, in the context where female founders command infinitely less VC money then men, best way of supporting female-led business is through purchase of their products. In menswear and home goods, Bombinate protects and preserves the work of human hands by connecting craftsmanship brands to men seeking high-quality lifestyle products.
Knowledge and expertise. It is easier than ever to access specialized knowledge and expertise, from YouTube luxury watch videos to menswear forums and luxury handbag aficionados. Highsnobiety and Hodinkee are combined media and e-commerce destinations that provides not only information and expertise on modern aspiration and watches, respectively, but also product purchase opportunities.
Cultural moment/atmosphere. Right now, we are at the cultural moment of general life improvement. "Wellness" is a tab on almost any site, from fashion retail to selling plants. Products across industries get filtered through this mood, and are presented as the answer to the question of whether they make our lives better and more fulfilling, if they help us advance on the Maslow's hierarchy of needs, or whether they enrich us emotionally, mentally, and spiritually.
Story. Curation, by default, creates stories. Stories boost the relevance and significance of a product or a brand. They turn them into collectibles, lend them meaning and cultural purpose, and emphasize their social and communal dimension. LeBron James and Kim Jones tell their travel stories for Rimowa. In this way, they contextualize Rimowa luggage in a larger narrative of creativity and ambition.
Hobby and interest. Modern running and cycling brands are an example of the curation of an entire lifestyle around their customers' passion for the sport. 
Trend and hype. For those wanting to know what's bestselling now, there's New York Magazine'sThe Strategist or The Sill's most popular plants.
Location. A good cultural narrative cannot take place just anywhere. A provenance like South of France, Lower East Side on Manhattan, Harajuku in Tokyo or Kreuzberg in Berlin are culture machines. Brands that emerged there capture more than a geographic location: they get the mood, the atmosphere, the time and the community, along with a particular subculture and a taste. Streetwear brands like Supreme are unmistakably rooted in downtown New York; there is a strongly emphasized Parisian vibe of brands like Maje or Sandro or Isabel Marant.
Personality or celebrity. The rise of social commerce goes straight into heart of consumers buying curated product selections from each other, or as Steve Dool, Head of Brand Partnerships at Depop, puts it: "There is something very 2020 about buying stuff from someone who made their name dancing or jumping off the side of a building or whatever." There's credibility in peer-to-peer curation, along with a shared taste: "another added benefit of allowing consumers to shop from people with similar interests and points of view, as opposed to brands that cater to their aesthetics or preferences," adds Dool. Elsewhere, modern art connoisseurs Justin and Hailey Bieber have been tapped by Paddle 8 as curators.
Price. Popular iteration of curation by price is "gifts under $50." A lot of retail sites offer filtering by minimum and maximum price as well, but there's opportunity to make this filter more appealing by wrapping it up in a story of spending wisely or being smart.
Heritage, ritual, and tradition. The common perception is that a brand with a link to heritage and craft almost immediately achieves a veneer of rarity. This mechanism is often used in retrofit manner, with brands (and entire regions) clamoring to emphasize their provenance and heritage. Brand founders are often elevated to the level of artists. A modern brand that does this well is Aesop, which rooted its retail into its positioning as a "fabulist," and doubles down on the craft and tradition of storytelling in its brand behavior, through stores to brand magazine and content to the website and events.
Email me if you'd like to talk more about this or design and activate a curation strategy.