Your margin is my opportunity*
Amid luxury struggles, the time may finally be right for Amazon's high-end expansion
I write weekly newsletter about how the new forms of social, cultural, and environmental capital change brand strategy. It has been selected as one of the best single-operator newsletters on the Internet. If you enjoy this issue, you can pre-order my book, share this newsletter with anyone you think may find it useful, and subscribe below: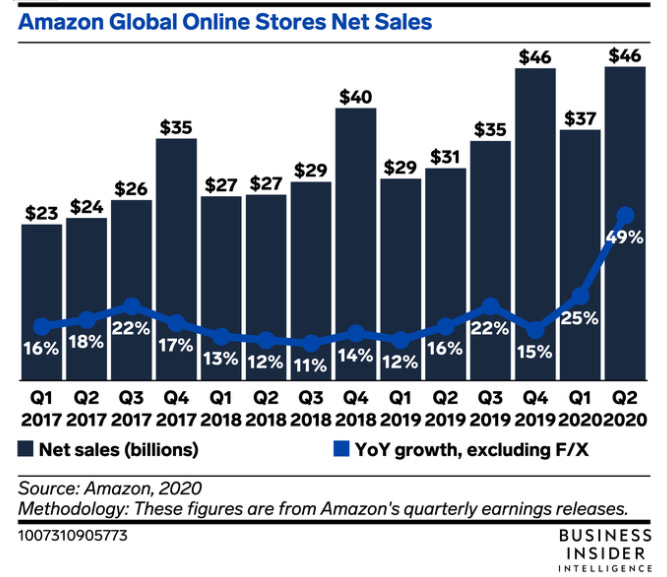 Reactions to the launch of Amazon Luxury Stores last week ranged from the "empire-has-fallen" to "who-cares." There was also some of the "this is not the future of luxury" pearl-clutching, which I am sure Natalie Massenet also heard when she started Net-a-Porter back in 2000.
The reason why Amazon may finally succeed has little to do with our ideas on the future of luxury, which is already bifurcated and operates according to a number of diverging business models, brand strategies and growth scenarios.
It has everything to do with timing.
Amazon waited the luxury sector out.
In the first half of this year, luxury spending shrank up to 35 percent. Kering reported 29 percent dip in YoY revenue. LVMH reported 20 percent. Prada's total sales fell 40 percent. Luxury is choked by the lack of global travel, closing of physical stores and consumers shifting towards more casual outfits, after months of quarantine and more months of remote work and social distancing.
Here are some business, operational and consumer behavior indicators of Luxury Stores' belated success.
Service. With Luxury Stores, Amazon gave control to brands in terms of merchandising, visual presentation and pricing. The front-end can look as finely designed and carefully edited as a stand-alone brand website or a traditional physical concession setup. The backend is Amazon's massive global infrastructure of customer service, centralized warehousing, vast delivery network and 100 million Prime members. At the time when owning a direct relationship with customers is key, quick and convenient delivery, exceptional customer service, and a mass of highly personalized data on Prime members is a win. The most compelling part of Luxury Store's pitch is not "access to the latest collections and exclusive items" but "Prime delivery."
Personalization at Scale. Amazon has more granular data on their 100 million Prime customers and lookalike demographics than most luxury brands have on theirs. While personalization is provided by a number of high-end aggregators, this personalization is mostly limited to one-on-one, individual relationships. Luxury Stores can offer this personalization at a massive scale, and "store within a store" model ensures that this relationship is still fronted by brands. This is a powerful combo.
Luxury Brands' Ownership. Most luxury brands are owned by a handful of conglomerates (LVMH, Kering, Richemont, PVH) or private equity firms. For both types of entities, relentless growth takes precedence over obsessing about brand equity. Both conglomerates and PE companies are now more willing to try out new retail formats and distribution channels in order to protect their portfolio, making Amazon's balance sheet and economies of scale very appealing.
RIP Department Stores. Luxury brands expanded their global footprint through retail partnerships with department stores. In the US, a number of department stores went bankrupt or suffered severe financial losses, diminishing luxury brands distribution and leaving them with a load of inventory and new, hard-to-meet sales terms. Luxury Stores are an attractive alternative.
Content. With Luxury Stores, Amazon offers tools for brands to "create and personalize content in each of their unique brand voices," along with a network of influencers and paid media placements. Amazon also has an Oscar-winning studio and streaming arm, which opens innumerable opportunities for content and commerce integrations.
Acceleration to E-Commerce. McKinsey estimates that luxury's e-commerce sales will double in the next five years. Bain's estimate is that online sales could reach 30% of the luxury market by 2025. Luxury shopping regularly starts on Instagram and Google, which have already commodified luxury items. Consumer choice and their dollars go to the retailer with the best price and fastest and most convenient delivery.
Consumer Trust. At Amazon, customer-centricity is a cultural issue. There's a Bezos old quote saying "When [other CEOs] are in the shower in the morning, they are thinking about how they are going to get ahead of one of their top competitors. Here in the shower, we are thinking about how we are going to invent something on behalf of a customer." Per Bezos' recent statement to the US House of Representatives, Amazon is the number two trusted entity in the country, just behind the military. The platform has been working hard on earning luxury brands' trust as well, with a series of aggressive counterfeiting initiatives.
Tmall. Global luxury brands already have another giant retail platform, Tmall's Luxury Pavilion, as their partner. The partnership proved lucrative for both Tmall and luxury brands. Earlier this year, Tmall live-streamed Watches and Wonders Show online to 800,000 viewers, who quickly snatched new models.
RetailCloud. In addition to using dark stores and transforming former shopping malls into last-mile delivery hubs, Amazon has made a strong foray into physical retail with its "top rated" bookstores, contactless Amazon Go and in-store Alexa assistants. Down the line, Luxury Stores' brand partners can benefit from Amazon's physical retail innovations.
*Jeff Bezos
---
I had a great opportunity to be interviewed by David Sherry, founder of a number of successful startups and a large DTC Slack Community. We talked about my upcoming book, The Business of Aspiration, https://thebusinessofaspiration.com/ and unpacked a core tenants of the new economy that's set up to create social and environmental value through curation, communities, and social influence. Watch below.
---
My book is comes out on October 27th. It's about what happened to taste, communities, and social influence when the economy shifted from manufacturing things to manufacturing aspiration. It's also about how this shift changes what we find valuable and worth paying for and how brands should transform their strategies to adapt. You can pre-order here or check out the book's website here.