The end of cultural icons: Why there will never be another Air Jordans
In chase for the iconic, we killed the icons
I write weekly newsletter about how the new forms of social, cultural, and environmental capital change brand strategy. If you enjoy this issue, please like it above, share it with anyone you think may find it useful, and subscribe below: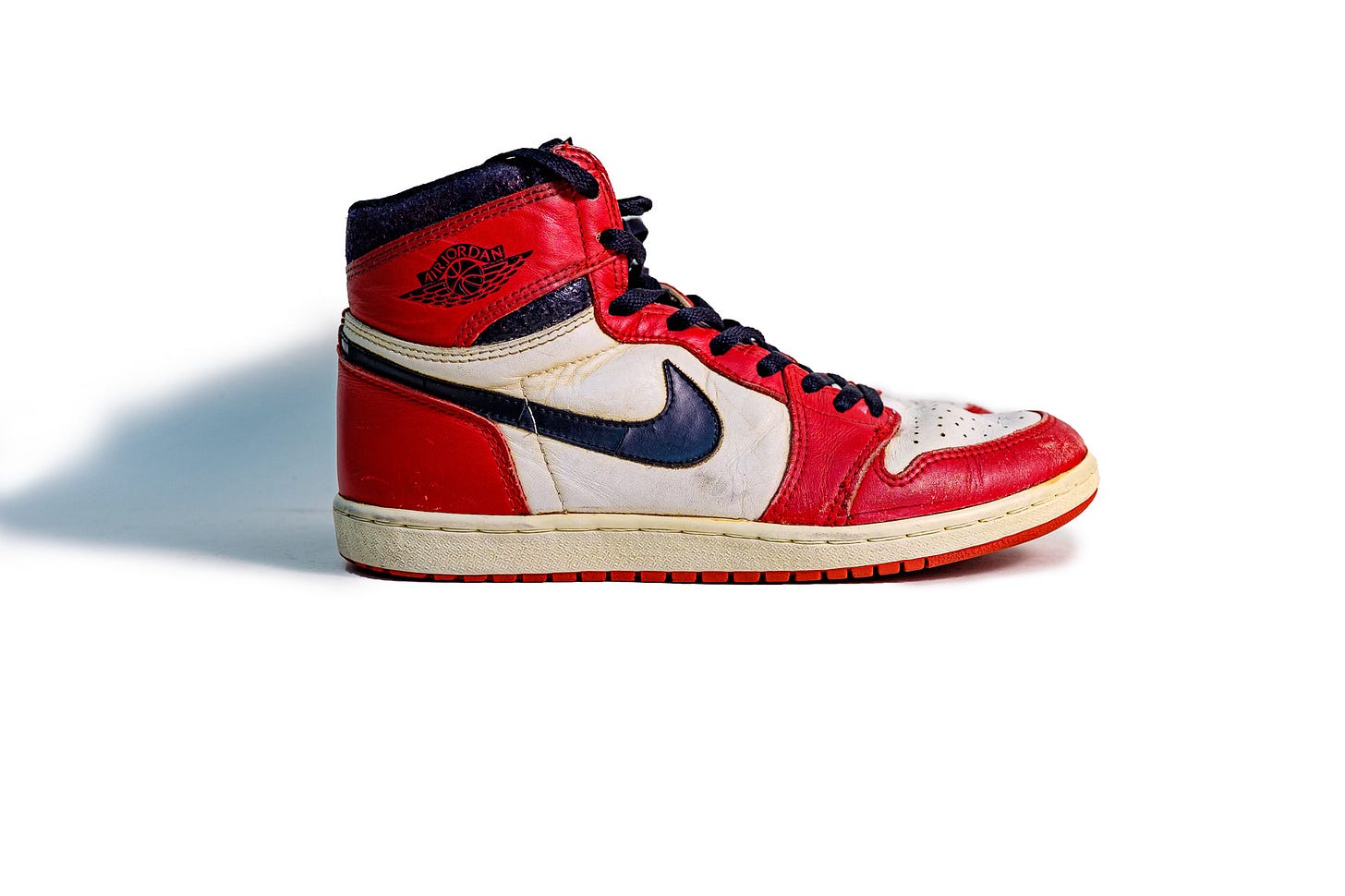 I·con /ˈīˌkän/: a person or thing regarded as a representative symbol or as worthy of veneration.
Welcome to the post-icon age.
The 1980s had Air Jordans and Back to The Future. 1990s had Vans Half Cab and New Balance 1500 and Britney Spears.
We have "re-editions," "inspired by," "brought back" and "in collaboration with." We also have anti-icons, like Kanye West or Adam Neumann or Elon Musk, who are as known for their anti-social antics as for their creativity.
The problem is not the crisis of originality. Iconic products or ideas or personalities are always outcomes of their context. The mood has to be right for everyone to like chunky sneakers or shoulder pads. When the media, culture, or retail were mass, so were the social symbols. These days, we'd be pressed hard to find symbols that mean the same thing to everybody. The geography of influence, taste, and communities shifted to micro. The big, sweeping planes of culture that asked for big, sweeping products and personalities are replaced with many micro cultures, each with their own niche products and personalities. Our concepts of "cool" and "iconic" are forged in the intimacy of our own taste communities.
At the same time, the taste space has never been flatter. Burning Man outfits, family pajama sets, Halloween costumes, weddings, craft breweries and coffee shops all appeal to our tendency to revert to the recognizable and the familiar. Just like crickets or lightbulbs, only amplified with Instagram likes, Twitter hashtags and other performance metrics, our taste signals are harmonized, so all of us end up looking the same, dressing the same, liking the same things, and visiting the same places that also start to look alike.
Here are the five forces that ushered us into the post-iconic future:
Newness. Icons take time to build a myth around themselves, and our culture operates under compressed trend cycles. When the pace for coming up with the "next thing" quickens, the best bet in creating something iconic is to riff off on something that's alreadyiconic (cue tireless Air Jordan reboots). The irony here is that, under pressure for newness, brands don't really create anything new. Similarly, driven by desire for newness, consumers never really get anything new.
Popularity. Cult movies were often commercial disasters. They became iconic despite or - more likely - due to their lack of commercial success. Not anymore: commercial success dictates what's created, so we get endless repetition of popular things. Everything, from movies to sneakers, is a sequel.
Memeification. Everything's a meme, a commentary on the already familiar, popular, and recognizable things, which are changed just enough (3%) to be taken out of their original context and turned into a joke or an ironic read. Strategies of enrichment through invented heritage and artification also go here.
Productivity. Most productive designers are proclaimed iconic: Coco Chanel and then Karl Lagerfeld, Maria Grazia Chiuri, Demna Gvasalia, and until he opted out, Pierpaolo Piccioli. In their hands, an original idea over-saturates culture. It can be argued that Elsa Schiaparelli and Rei Kawakubo contributions were greater, but less culturally insistent and pervasive, and less mainstream.
Death of a critic. Critics of lore used to be commercially impartial commentators dedicated to the artistic "truth." Today, a critic is part of the culture-media-commerce machinery that feeds itself. A person can change something "just 3 percent" and count to be overhyped by mainstream media and celebrities. In return, they are happy to become readily available content creators. Faced with this culture-media-commerce hype cycle, consumers get bored quickly, and move onto the next thing. See newness above.
p.s. Thanks to a well-received recommendation list from last week's newsletter, I decided to compile another list, with more deep cuts. Consider it "what to read, part two," coming next Monday. Subscribe here.
---
In the episode 8 of The Business of Aspiration, I spoke with Drew Kaufmann of Million Goods, a Brooklyn-based retail concept that combines streetwear (in particular Japanese streetwear) with an in-house sake bar and a hi-fi listening lounge. We talked about curators, critics, and voices worth listening to when it comes to taste.
---
I have a book coming out on October 27th, about what happened to taste, communities, and social influence when the economy shifted from manufacturing things to manufacturing aspiration and how this changes what we find valuable and worth paying for. You can pre-order here or check out the book's website here.