The Reverse Pyramid of Telfar
Social accessibility as a growth strategy
I write weekly newsletter about how the new forms of social, cultural, and environmental capital change brand strategy. If you enjoy this issue, please like it above, share it with anyone you think may find it useful, and subscribe below: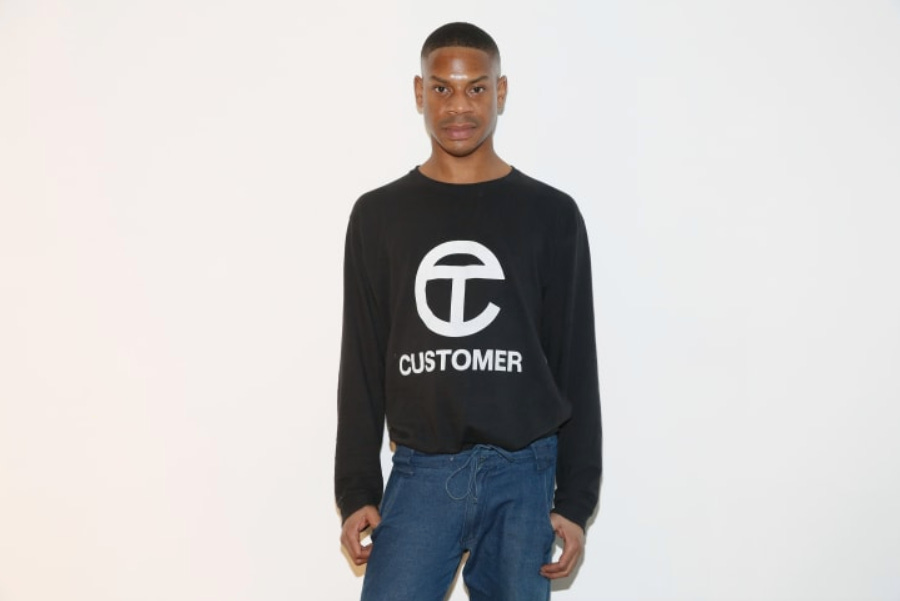 The reverse pyramid model is a revolutionary switch of the relationship between availability of something and its aspirational value. The model breaks from the established business and brand logic as it generates access to desirable products, taste, knowledge, and community in order to create economic value. This model powers growth in the de-industrialized markets.
The reverse pyramid model is not to be confused with the mass model, which relies on cost-effective production, wide distribution and economies of scale to saturate the market with a product. Accessibility of the reverse pyramid is social and cultural as much as it is economic. 
The model is also not be confused with premiumization, which is often used by brands in order to add codes of status to a mass product in order to differentiate it from store brands and charge more for it.
The reverse pyramid model subverts the classic pyramid, where the social and cultural value is created at the top and then it trickles down to the base of the pyramid. The pyramid's base is the most economically accessible, but the most creatively diluted. 
For example, the traditional pyramid model is used by a number of luxury brands that at the top of the pyramid have ateliers, haute couture or artist-designers that create a brand myth. Towards the bottom of the pyramid, this myth exists in the form of an economically accessible key chain or a scarf. 
In contrast, the reverse pyramid is energized by accessibility of its base. Base products are the same as the products at the top (example is the Telfar bag a.k.a the Bushwick Birkin). To grasp how thoroughly this reverses the establish economic logic, consider this: some hundred years ago there were a couple of thousand car owners. Owning a car - any kind of car - was a differentiator. Today nearly everyone has a car (or several) so the differentiator is a car brand.
Both traditional and the reverse pyramids share the same mechanism of drawing people deeper towards the tip of the pyramid. The traditional pyramid uses economic capital and transactions of increasing volume and value to get them there. In contrast, the reverse pyramid uses taste and cultural capital and social exchanges with increasing meaning. Direction is towards becoming a brand insider and moving - thanks to one's own interest or passion - from everyone to a community and from mass to a deep cut.
The reverse pyramid model increasingly used by modern brands that sprung up around a specific activity (running, biking), behavior (cooking, decorating), or a taste regime (coffee, aperitifs). Modern brands use their products as an entry point into a brand, but the real brand benefits happen with deeper brand engagement and insider knowledge.
For example, a specialty coffee and artisanal brewing equipment website Kurasu says, "we want not just to be a provider of Japanese coffee equipment, but to focus on the education of the Japanese way of home brew, the Japanese coffee culture, and the art of coffee itself." Kurasu pairs its subscription coffees with stories and photos of the people behind the beans and gradually turns their customers into coffee aficionados, and further down the pyramid.
Unlike the DJ model, the reverse pyramid model doesn't revolve around value innovation, but around gradual value-add predicated on consumer commitment.
Outside of the culture industry, the reverse pyramid model is used by airlines and online retail aggregators, like Matches Fashion or Net-a-Porter. They provide an increasingly superior level of service and experience to customers who spend a lot of money with a brand. The reverse pyramid is here based on the economic value - consumer spending - and not on the social or cultural accessibility.
In both scenarios, the reverse pyramid model's long-term strategy is to create customer lock-in, increase retention and capitalize on intangible brand benefits, like service, belonging, community, taste or interest. By creating successive layers of customer engagement, the brand increases its value for its most active customers without excluding anyone else.
Example: Telfar
Telfar Clemens wants everyone who wants his bag to have it. Thanks to his recent business coup of allowing anyone to pre-order the bag, he effectively turned the established aspirational economy on its head. For the first time, a wide availability of something does not dampen its desirability. It may even increase it.
Telfar Clemens is a New York-born queer Liberian-American who launched his unisex fashion line in 2004. According to Telfar website, he set out to "make clothes that do not exist on the market - just as you do not exist in the world." The brand tagline is "not for you, for everyone."
Telfar aims to become an ubiquitous presence, like Michael Kors, Ralph Lauren, Calvin Klein before it, by creating accessible and affordable unisex clothes in a wide range of sizes. "We want our work to feel like a world — because we need a world that feels like us," is Clemens' mission. That mission, in itself, thoroughly questions fashion's conventions and inspires us to imagine a different fashion world. As my friend Daniella Kallmeyer, herself a queer New York designer, put it: "if you are hiring diverse fashion models only now, you are already too late." Along the same lines, Clemens says of his brand: "it's something very different from the trend for diversity without change that we see elsewhere in the industry."
Telfar's vision led it to be perennially labeled as "emerging." It's the fashion world that now needs to catch up.
The layers of Telfar's reverse pyramid are: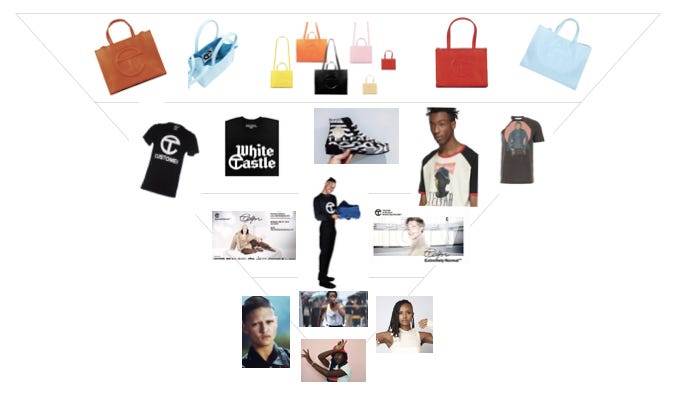 Layer 1: The Telfar bag. Key to status is having or knowing things that a very few people do. A coveted handbag usually signals success, money or insider knowledge of a keen collector. With Bushwick Birkin, advertised as an "Everyday bag for everyone," none of this is true: the bag's status is in identity and belonging. A Telfar makes one feel more like themselves - queer, black or brown, visible, proud, creative, plugged-in. It makes one feel a part of the community of those who share the same progressive values of genderless-ness, democracy, and transformation. Status is in community. This is the modern narrative bought into by everyone from downtown generation to artists to musicians to a Real Housewife of New York, who noted, "I am all about tolerance and I like to promote this message of the city: everybody belongs here. I am a champion of underdogs." 
Layer 2: The Telfar Industry. Sales from the Telfar bag currently power Telfar's other ventures, which range from music to film to apparel to performances. Telfar's shows are collaborative, multimedia affairs that are often described as "mini-festivals." They bring together musicians, singers, playwrights, poets and DJs, performance artists, experimental chefs, and actors. Telfar's collaboration with White Castle is now legendary - as are the New York Fashion Week after-parties held at the chain's now-closed Times Square location. The capsule collection that sprung out of the White Castle collaboration went to bailing youths from the Rikers Island jail. Telfar  also collaborated with Dev Hynes and photographer Roe Ethridge. It had pop-ups at Century 21 and held performances at the Serpentine Gallery and Guggenheim. 
Layer 3: American Dream. Telfar has been creating a version of the American Dream by those, and for those, who are under-represented, ignored, and excluded from it (and from the fashion industry). With smart riffs off Abercrombie and Fitch and Dockers ads, but with tattooed bodies in cuddle piles or friends talking about astrology, Clemens introduced an alternative iconography that's as American as its prep-school or white professionals inspiration. Back in 2019, Telfar partnered with the Black Lives Matter Global Network to celebrate Black Futures Month, an "Afro-futuristic idea that challenges us to envision what life would look like for black folks in a world liberated from white supremacy and oppression."
Layer 4: Culture. At the tip of Telfar's reverse pyramid is the community of culture-makers like Solange, Selah Marley, FAKA, playwright Jeremy O'Harris, Ian Isiah, or Ashton Sanders. Together with Telfar Industry, Clemens' cultural background and relevance are deeply rooted in his "clubland" dance scene where he still DJs, and where, according to legend, he once in Happy Endings DJ-ed naked.
---
I spoke with Ari Lewis of "Mastering the Attention Economy" podcast about why the entire world is becoming a membership club, why people increasingly gravitate towards micro-communities and what role brands can play in developing their consumers' taste. Listen here or watch below:
---
My book is coming out on October 27th. It's about what happened to taste, communities, and social influence when the economy shifted from manufacturing things to manufacturing aspiration and how this changes what we find valuable and worth paying for. You can pre-order here or check out the book's website here.