The Galaxy of Kanye
Why American Utopia is the Killer Business Model
I write weekly newsletter about how the new forms of social, cultural, and environmental capital change brand strategy. If you enjoy this issue, please like it above, share it with anyone you think may find it useful, and subscribe below: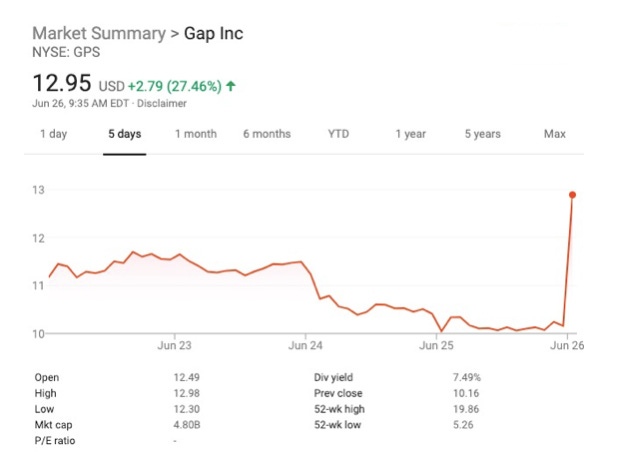 The Galaxy model refers to the brand and business strategy where products create a system held together by the gravity of the funder at its center. Some of the examples of the Galaxy model are Ralph Lauren, Martha Stewart, DVF, Kylie Jenner, or Armani. In this model, all sub-brands, brand extensions, products and experiences are entry points into the brand universe. There is no hierarchy among them: they all reflect brand values and play an equal role in bringing the brand to life. 
The Galaxy model's advantage is the power of a single person, who ensures a strong point of view, a high creative consistency of all brand executions, and cohesion of its aesthetics and values. This is also its biggest liability: the founder, who often grows into an iconic figure of mythical proportions, has to have a clear succession plan, to keep their creativity fresh, and to stay vigilant in order not to fall out of grace, lest the entire brand collapses with them. 
At the Galaxy's center is often an invented story, like Ralph Lauren's East Coast aristocratic life (Lauren famously said, "other designers have taste, I have dreams." In his case, there's his own American Dream from the Bronx to the fame and riches, and the Great Gatsby dream at the center of his brand). 
The Galaxy model doesn't revolve around the heritage, craftsmanship, or the exceptional product quality (like e.g. Hèrmes). Instead, invents weaves a mythical story and emphasizes image, merchandising, and the atmosphere of the environments where this story can be lived through brand experience and products. For example, Ralph Lauren stores feature black-and-white photos of the old Hollywood royalty and the privileged American high-society vibe. They sell everything from Ralph Lauren furniture, bedding, decorative objects, to its many clothes labels. There are also Ralph Lauren restaurants and cafes, all meant to express the rarified East Coast lifestyle.
The Galaxy model is most often used by brands selling at an accessible price point (it is not economically feasible to have an exclusive distribution network and an accessible price point). Only by having a galaxy of horizontal brand extensions, a company can command wide distribution, a sizable advertising budget, and increased brand recognition. 
The Galaxy of Kanye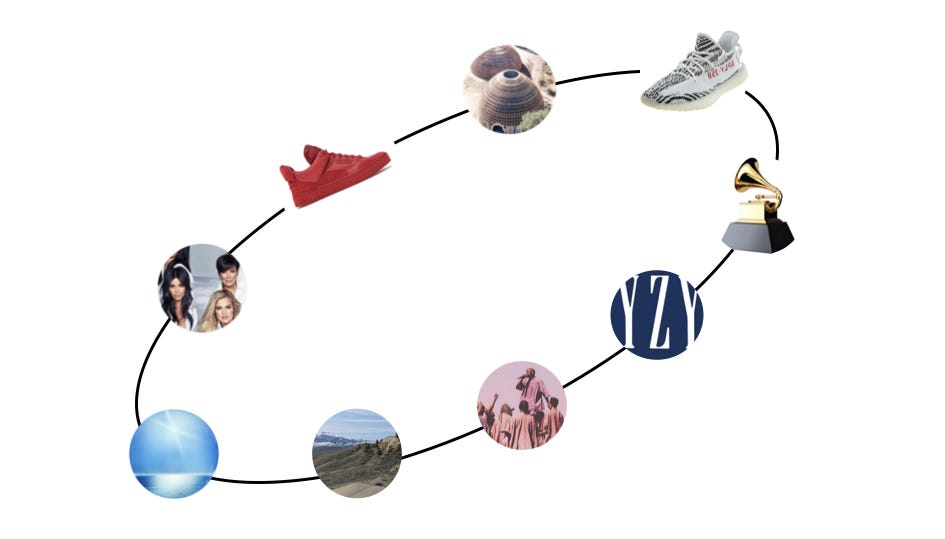 Kanye West built around himself a galaxy. His story is one of spirituality, community, sustainability, local production, social justice, freedom, and, not coincidentally, the ideal of the Wild West. Kanye's galaxy is a reinvention of the American Dream.
West's story is rooted in a "Yeezy Campus," his ranch in Cody, Wyoming. The ranch is a 3D recreation of The World of West aesthetics, iconography, and a heavily mythical story. The story is present everywhere from the architectural language that he labeled "a paradigm shift for humanity" to earth-hued clothes that are "outside space and time." Everything is biblical, spiritual, sustainable, human. There are affordable housing domes that are the future of community. There are 700 sheep and closed-loop ecology for energy and water capture, a bio pool, a skate ring, and a vegetable garden. The weekly Sunday Service takes place in Cody, among other locations, with the gospel choir outfitted in Yeezy sneakers. There are also talks of building apparel manufacturing capabilities in the area, which are going to create local jobs, employ former prisoners, and adhere to "seed to sew" principle to farm the raw material and manufacture it in the same location.
The spectacle, the show, and the staging of an experience is critical in building an iconic brand. Kanye has always had a feel for spectacle, from The Life of Pablo to collaborating with Maison Martin Margiela on his 2014 Yeezus tour outfits. The Campus is the stage for West's creative utopia and its holy land: West claims that he followed the Holy Spirit when selecting Cody as the place for his company. He's a messianic founder. For Apple, Cupertino Campus and Steve Jobs played this role. There are pilgrimages, moments of communion, and sacred objects ("the perfect hoodie"). There's also the new album, Jesus is King. There's a new clothing collection made all of muslin, because Leviticus 19:19 and Deuteronomy 22:11 say that "you should not wear a cloth made of two kinds of materials." 
The atmospheric consistency is important, and also strategic. There are two business pillars behind the Kanye's galaxy. First, in order to sell his brands at an accessible price point, as is his ambition, West needed a partner: one with a massive distribution network and an equally massive advertising budget. Enter GAP.
Second, any new Kanye West product will be related to the "origin" story and made meaningful within the brand galaxy. Expect innumerable Yeezy brand extensions into beauty, wellness, makeup, perfume, and lifestyle products.
Just like Disneyland and Hollywood, The West World aggressively markets itself as a place where dreams come true. Exclusivity is an unspeakable world there, and the ambition is to break down barriers between classes, make a biodegradable shoe out algae, improve human condition, and create an industry where there was none before. It's also a place that constantly reinvents the myth of Kanye-the-creator. West is already a self-proclaimed greatest artist, one of the biggest real-estate developers of all time, and someone who regards the word "ambitious" beneath his abilities.
Kanye West set out to invent "something that's so good that you don't even get credit for it because it's the norm." And he did: his business model is going to keep him on a billionaire's list for a long time. GAP is just one of the stars in his galaxy. 
---
In the Episode 7 of the Business of Aspiration, I spoke with Daniella Kallmeyer, an independent fashion designer in New York City. Daniella's business model has always been to play a long-game, by putting out sustainable products, classic designs, learning from her community, and offering highly personalized styling services. In our conversation, she shared with me how she saw demand for her designs increase during the lockdown, how she is thinking about reopening, what role the community has in running her store, and how she ensures that she works only with suppliers, producers, and distributors that adhere to values of social responsibility, equality, and transparency. Watch below.