The Decade in Fashion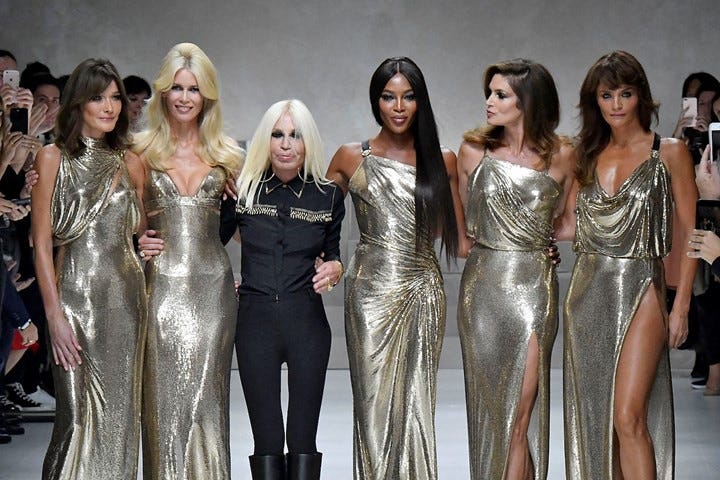 Alber Elbaz once observed that "when there is a wind of change, we can build a wall to protect ourselves from the storm, or we can build a windmill to let the wind blow faster, so we can benefit from the wind and be part of change." It's a fitting summary of the luxury fashion's past decade.
Luxury fashion consumers went from chasing trends to seeking a lifestyle, and wanting brands with a point of view, a singular attitude and a compelling promise. Traditional PR-merchandising complex spectacularly imploded. On one side, it had been replaced by a radical redefinition of the role of physical stores and wholesale partners. On the other, it has been edged out by content, collaborations, community-building, and curation strategies. E-commerce moved from the IT outskirts of the organizational chart to its front and center, with even the staunchest holdouts launching online shopping. Barneys went bankrupt. Investing in R&D and new materials remained low, unless a company was Stella McCartney. Sustainability moved from the domain of conversation to the domain of action, although still not quickly enough. Status symbols went from showing off one's economic success to showing one's cultural capital. Luxury fashion and streetwear became one, turning their premium mediocre products into Veblen goods. Luxury fashion consumers became the ultimate fashion authority, surpassing CEOs, editors, journalists, merchandisers, and fashion critics. Around the middle of the decade, fashion and technology became fast BFFs, swapping talent and inspiration from each other. Suzy Menkes summoned Jonny Ive to Condé Nast's inaugural International Luxury Conference. Ive was to tell the delegates "where the 21st century luxury is headed." For a moment, Apple became the most coveted gift for the Chinese affluents, charging ahead of Chanel, Louis Vuitton, and Hermes. See-now, buy-now was hot for one second. Revered figures in luxury fashion became design collectives, hip-hop starts, reality TV celebrities, and influencers. China emerged as the largest luxury fashion's retail and e-commerce market. Menswear sales grown at nearly double the pace of womenswear. The fashion week went through a prolonged transformation, from live-streaming to spectacle to taking place in a Chinese restaurant. Luxury fashion brands went from shunning Instagram obsessing over Instagram. Luxury fashion's e-commerce consumption went from six percent to twelve percent. The growth strategy of opening more stores came to a screeching halt. Internal retail labs went from being all the rage to being all but forgotten — because they were organized, resources, and governed to protect incumbents' existing business models. In their place came DTCs, swiftly testing new business models, distribution channels, go-to market strategies, and supply management practices. Vetements came and went. YouTube has yet to become a viable and desirable part of luxury fashion's media mix. Rental marketplaces grew from $1.1bn in 2018 to projected $1.96bn by 2023. Luxury fashion is still not comfortable with blockchain, AI, and 3D printing. Cultural appropriation became a big topic, with a very good reason. Omnichannel is still a hard nut to crack. There's also still much left to be desired in terms of luxury fashion's seamless customer experience, starting from the free in-store wifi, and continuing to tech-empowered customer service, data integration and CRM, Apple and Ali Pay. There's an ongoing battle of luxury brands' battle with their own outdated, siloed, and clunky organizational structures. But, in the past ten years, luxury fashion finally started to inch away from society of spectacle to cultural dialogue; from fantasy to the real world; from razzle-dazzle to having a point-of-view.
As luxury fashion enters the new decade, the seven biggest TBC themes are: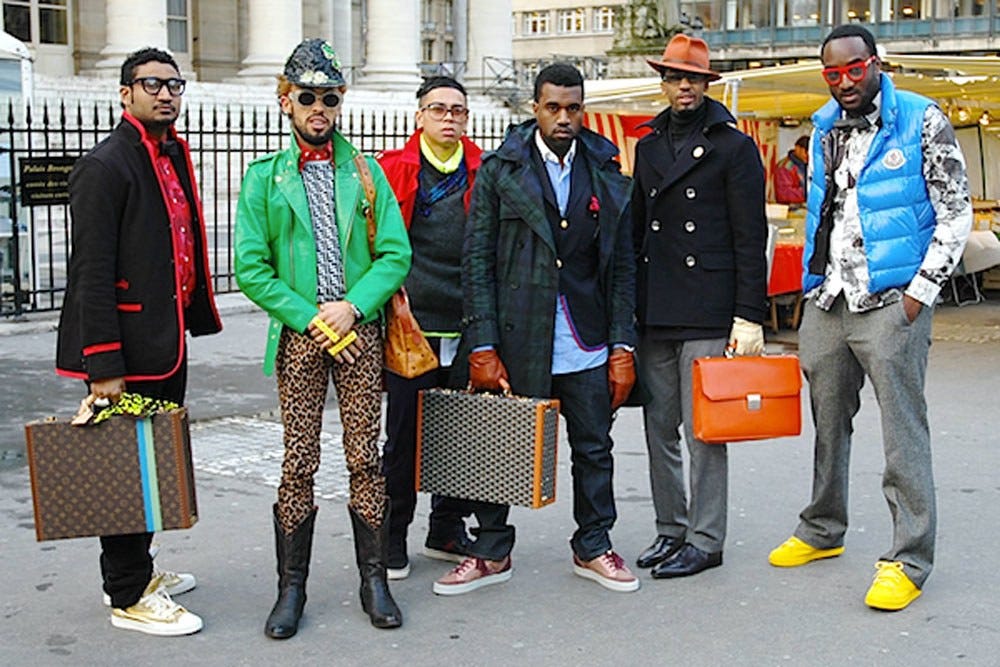 The Kanye Effect
In 2014, Kanye West addressed, mid-concert, the fashion industry: "Cause you know damn well there aren't no black guys or celebrities making no Louis Vuitton nothing." Fast forward to now, and Virgil Abloh is the men's artistic director at Louis Vuitton. Samuel Ross was a finalist for the LVMH prize in 2018. There are also Heron Preston, Matthew Williams, and Yoon Ahn, all from Kanye's posse. But beyond the current prominence of Mr. West's collaborators in today's luxury fashion, there's something else. Streetwear has become a coveted strategy of making, marketing and selling clothing.The Kanye effect is best summarized as turning a lifestyle into a product collection. If one buys into the globe-trotting, music, design, art, contrarian lifestyle projected by Kanye, Abloh or Kim Jones, they are going to buy an Off-White or a Dior product. Today's luxury fashion collaborations sell a mood. A few years ago, this mood was one of protest and rebellion. Everyone from Zara and H&M to Dior encouraged us to break the rules, at least, to look like we do. Met Gala celebrated the proto fashion punk, Red Kawakubo. Vetements sold a $1,295 hoodie that lets a person wearing it to look like they just smashed the Berlin Wall. This "all aesthetics, no meaning" design approach soon assumed a dangerous form of cultural reductionism, examples being Dolce & Gabbana's Chinese ads, Valentino's cornrows, and GUCCI's blackface. This has been luxury fashion's big decade of blurring the lines between the cultural and the commercial.
2017: What High Fashion Can Learn From Street; In Fashion, Creative Networks are Taking Over; Fashion's Great Disintermediation
2016: Marketing genius or mad man? The man who sells sneakers for $132K; Why Collaboration is Fashion's Next Market-Building Strategy; Rebellion, Inc.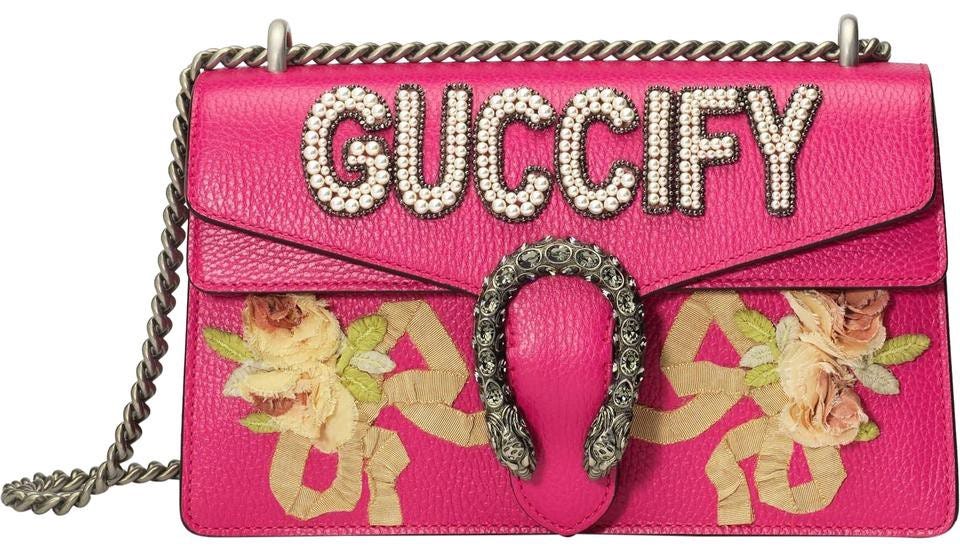 GUCCIFY
Closely linked to the Kanye effect is the Luxury Fashion Oligarchy. Luxury Fashion Oligarchy is commercial, and its goal is to push consumers to buy more. It is the domain of streetwear collaborations and "premium mediocre," which emphasize merch and logos that turn everyone willing to spend $600 on a t-shirt, a branded hat, or a belt into a luxury consumer. In the Oligarchy, a high-end piece of jewelry is selected to go with the latest sneakers or a handbag. A hoodie is the status symbol. Access is a commodity: because goods from luxury houses are ubiquitous, the only way to provide differentiation is via faux limited edition and drops. It's a marketing strategy that masters distinction without a difference, where everyone owns a variation of the same thing under one brand umbrella. In the Luxury Fashion Oligarchy, democratization is good, and elitism is bad. The Oligarchy is a global moneymaking machine, fueled by new markets, new consumers, new wealth, growing conglomeration, and hype-driven social media.
2019: The Decade of Two Luxuries
2018: Luxury Fashion's Challenges
2016: Luxury Retailers: Stop Playing the Promotion Game; Retailers are Working to Change Discount-Driven Shopping Culture; Marketing Strategy in the See-Now-Buy-Now Era; The Game-Changing Digital Transformation of the Fashion Week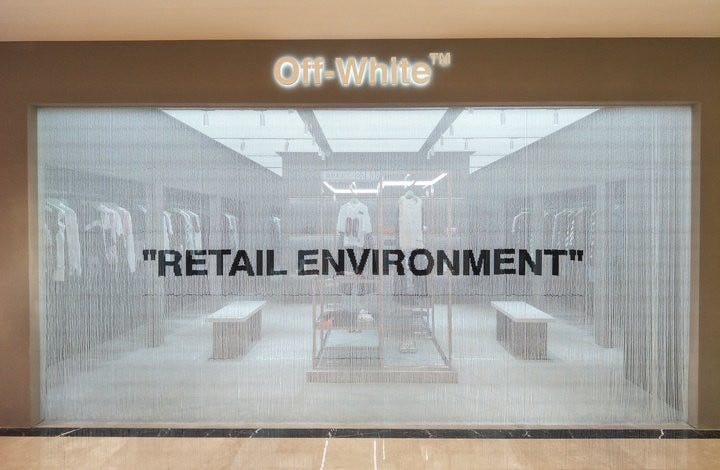 The DTC Game
This has been a decade of the luxury fashion DTCs. These brands grew not through churning out massive volumes of merchandise, but by doing things that don't scale. They all offer custom-made, limited-batch, season-resistant, story-rich, and built-to-last times that are released, one by one, a few times a year. Brands like Off-White, The Row, Senreve or Saks Potts succeeded because, just like the luxury fashion houses of old, they built their business around the cultural language and direct relationship with their customer. They put forward a strong ethos and relevant stories, and they connect with their fans through their shared passion points. It is about managing an ongoing relationship with a very specific set of customers that enables their specific lifestyles. What all luxury fashion DTCs have in common is their strategic use of physical retail; a clear aesthetic point of view; obsession with data; "less but better" approach to their product assortments; and innovative marketing.
2019: DTC as a Growth Strategy; The Anatomy of Fenty's Success; Rise of Fanmade Brands
2018: Why Every Brand Should Be Watching the Emerging Beauty Industry
2017: Why Retail Labs are Toast; Fashion's Business Transformation Gameplan; Why data is the future of customization
2016: Six Habits of a Modern Fashion CMO; How Fashion Needs to Deliver in Digital Commerce;The High Street of the Future
2015: Can Luxury Brands Hack Their Own Growth?;The Silver Bullet for Luxury Retailers isn't E-Commerce. It's Redefining the Business They are In; Why Apple's crashing the luxury party; How Apple Became China's Most Covered Luxury Brand; Why Luxury Brands Must Invest More in Digital Advertising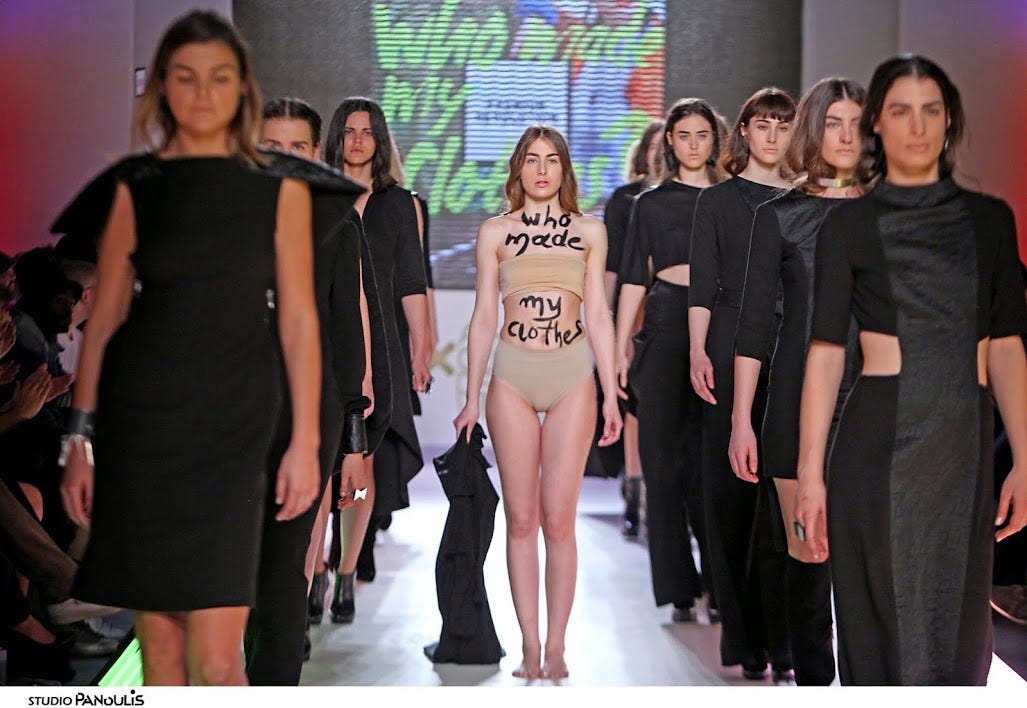 The Sustainability Paradox
It's become hard to keep track of all sustainability pledges, awards, certificates, and green capsule collections. In reality, inexcusably little has been done to transform how luxury fashion items are made and marketed. Overproduction remains the main culprit of luxury fashion's dire environmental record. Other culprits are a systemic lack of investment in R&D across the industry, lack of education about new materials, and lack of budgets allocated to sustainability initiatives (when they are allocated, they come from marketing, not from product design). In this context, it is not surprising that the most sustainable practices come from outside luxury fashion (Stella McCartney being an outlier). Patagonia is still the sustainability leader, as are the startups like Vestaire Collective, TheRealReal, and Rent The Runway that put forward sustainable options like rentals and secondary marketplaces. Still, the biggest shift will come from the luxury fashion consumers, and their mental accounting when making decisions about their next purchase. To make a difference, luxury fashion need to deploy social influence, not only a sustainability pledge.
2018: Rethinking Fashion's Transparency Gameplan; The Problem with Transparency in Fashion
2017: Luxury fashion is not ready for sustainability; Blockchain and the Internet of Luxury
2016: Fashion Brands, Long Focused on Excess, are Finally Waking Up to Sustainability; Where to Invest in Fashion Technology?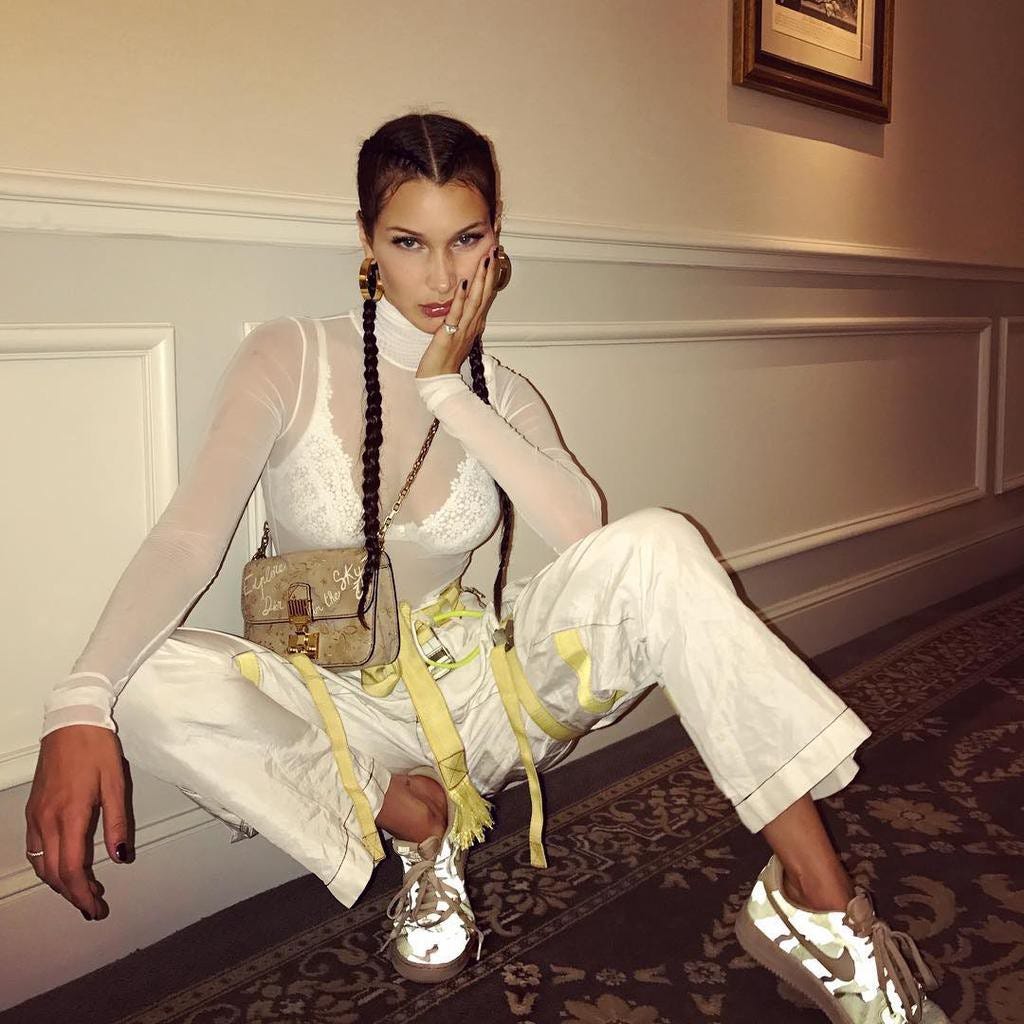 The Instagram Imperative
"Is it going to look good in a selfie?" The answer to this question can make or break a luxury fashion brand, and with a good reason. The way a product is going to be discovered, shared, talked about and bought is today more important than the product itself. Products that are highly Instagrammable, like pink Balenciaga faux fur coat or anything that GUCCI currently makes, are more popular and get made more. Product shareability has become a legitimate design decision, as most items are going to be viewed exclusively online. Add a layer of social commerce here in the form of Instagram Checkout feature, and there's a world running on social currency. In it, we are all shoppable product demos. Anything can be sold everywhere, by anyone, and to anyone. In 2010s, community has become luxury fashion's killer app.
2019: The Ultimate Guide to Social Commerce; The Problem with Luxury Fashion's YouTube Strategy
2017: New tech touchpoints aren't killing retail. They're bringing it back to its personal roots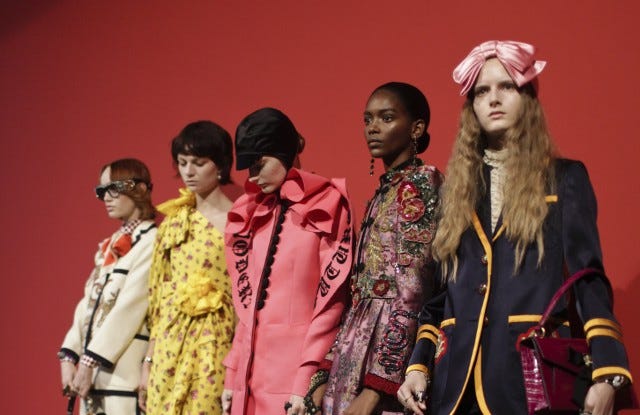 #Diversity
Ideas of masculinity, femininity, gender, sexuality, "norm,"and "beauty" have changed. Campaign imagery and brand ambassadors who once fit into the neat gender categories and represented masculine or feminine ideals feel increasingly irrelevant and old-fashioned. The James Bond alpha-males feel a very long time ago, as do hyper-sexualized clothes for women. Everyone dresses based on their own perception of their own identity. Today, this perception is evolving and fluid.
2017: Are luxury brands taking their eyes off Gen X?; Pajama Street Party
2015: Menswear Boom Explained; Athleisure: The TriBeCa mom cult that went mainstream; Million Dollar Babies: How the luxury kidswear industry grew up;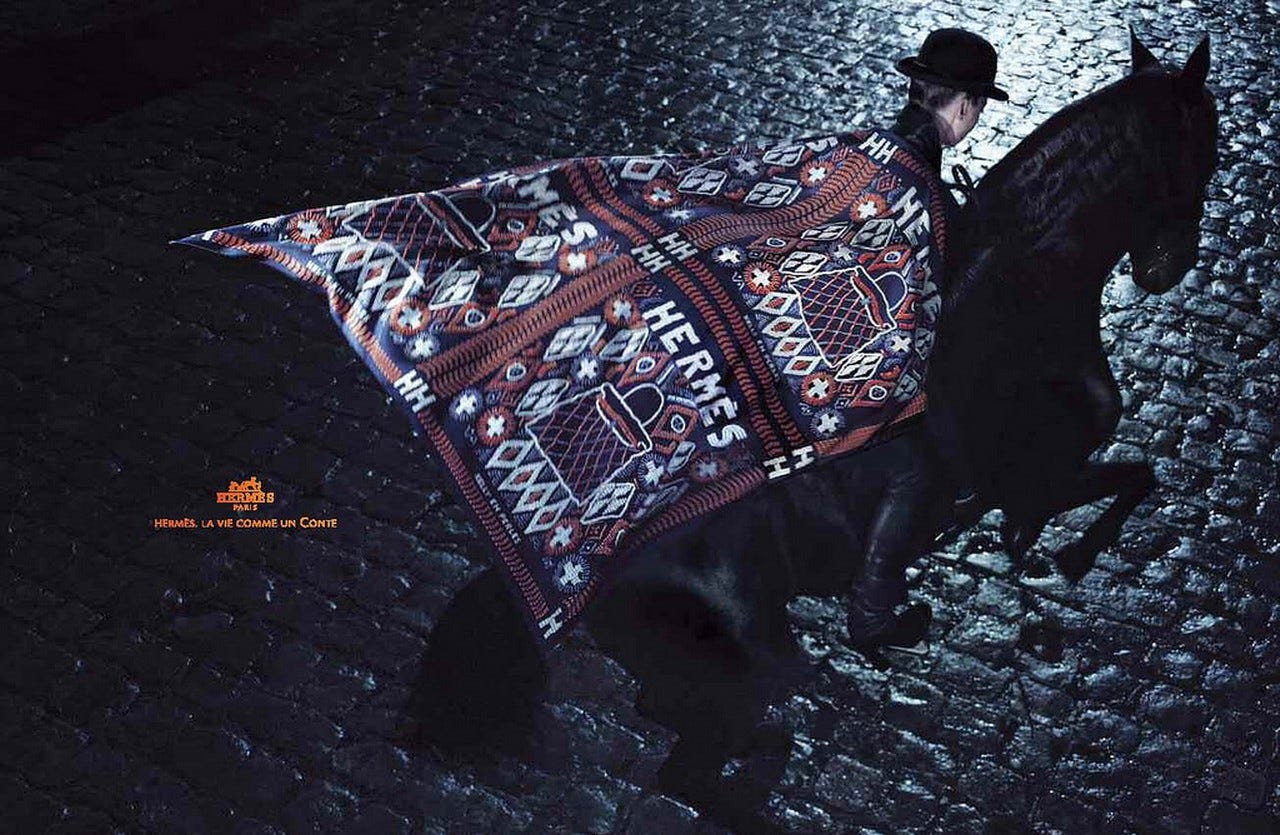 Going Analog
Alber Elbaz, again: "maybe we are no longer the industry of newness, because that was taken by technology, but we're still an industry of a man and a woman, of a thread and a needle, and of fabric, and a dream." Mr. Elbaz captured the mood, shared by the most discerning among the luxury fashion consumers, towards the "exceptional artisanal work." We are not luxury, says Hermès. We are high quality. As of yet unnamed, this domain of low-tech aspiration champions displays of human creativity; algorithm-free, analog taste; and admiration for well-made things. This isn't a world of products; it's a world of hand-made objects, like limited-edition Blenheim Forge knives, yule logs, or zero waste restaurants. The barrier in this new economy of goods and object is not the cost of things, but of information. Modern luxury fashion consumers are fans, hobbyists, and collectors. Their aspiration is to covet a Chanel jacket because they know it had been worn by Vanessa Paradis in the film "Heartbreaker." Knowledge gives products value, and new aspirants buy the knowledge, creating a new divide between themselves and both those who neither have this Chanel jacket and nor this Vanessa Paradis knowledge. A new symbolic statement is knowing who made our clothes. This new type of economy reestablishes this lost link between us and our culture, society, art, environment, and spiritual evolution. Sure enough, not everyone can have it.
2017: Five forces behind luxury fashion's transformation
2016: Flair for the Obscure is Luxury Fashion's New Currency; How Copenhagen is Setting the Tone for Fashion Worldwide; Four Forces Behind Luxury Complexity; Luxury's Lesson to Brands: Get Your Customer Experience Right
2015: Luxury Brands are Failing in Their Storytelling; Luxury needs a new story: why the industry suffers from identity crisis; Why service design is luxury's new battleground