Discover more from The Sociology of Business
A global analysis of how changing values change business.
Over 26,000 subscribers
The 4Cs of the Modern Brand, the Global Pandemic Edition
The purpose, practice, and execution of brand strategy is changing as we speak
Starting next week, I will start including video conversation with this newsletter subscribers, under the title The Business of Aspiration. To spare everyone from dialing in to yet another Zoom, the conversations will be recorded and shared here and on my social media and YouTube, so you can watch them on your own time. The line-up so far is very stimulating, and is ranging from influencers to small business owners across industries, to professionals working for legacy brands. We will stay within the topics I cover here and will offer practical take-aways: how to behave more like a B-corp, holistic brand management, the future of collaborations (less Supreme x Lamborghini and more Haus' Restaurant Project), data management, how to activate behavioral contagion, cutting marketing budgets smartly and strategically, strategic brand communication, how to offload excess inventory without damaging the brand, how to do merchandising better, and how to create a great membership program, among others. If you think this is a good idea, please like it above, share it with anyone you think may find it useful, and subscribe below: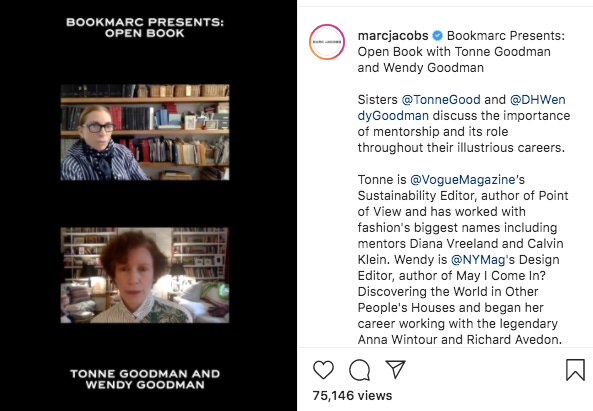 Helena Glazer is a fashion and beauty influencer who goes under Instagram handle @brooklynblonde1. On March 30th, she posted a photo of herself in the head-to-toe Everlane look, a mere couple of days after Everlane fired all of its union workers and was publicly called out for it by Bernie Sanders.
Both in her website post and in her Instagram comments, she was called out for supporting a brand with the obviously unethical practices. "Maybe reconsider supporting Everlane. They are under heat and controversy for laying off their workers for wanting to unionize, which says a lot about Everlane," one Instagram comment read. "It's hard for me to even consider buying anything from Everlane having in mind their latest choices and horrible behavior … It's interesting to see how affiliate bloggers are gonna approach the situation," was one of the comments on the Brooklyn Blonde website. Under pressure, BB later clarified in her Instagram Story that she was "not aware" of what happened and was under contractual obligation with Everlane to promote their products.
These days, this particular kind of practiced cluelessness draws ire, as Page Six-labeled #covidiot Arielle Charnas experienced first hand. Almost overnight, consumers went through the cultural climate change and emerged on the other side more receptive to brands' and influencers' positive actions and more ready to scrutinize the perceived negative ones. Selfishness, insensitivity, inequality, lack of empathy and compassion, and failure to read the room are quickly socially shamed. 
This is the new backdrop for brand strategy. Radical individualism is out, social connection is in. Brand focus is not on the end customer, but on the communities they belong to. Just as personas made individual consumers visible, the new brand methodology makes visible consumer communities and their co-dependencies and influences. New focus of engagement plans is not just on the brand actions, but on their secondary effects. Pre-pandemic consumer-centric brand strategy is now society-centric strategy. 
Against this new backdrop, there are the 4Cs of the modern brand: community, content, curation, and collaborations. They impact how a company defines and executes their brand strategy, launches and markets its products and services, and captures, distributes and delivers value to its customers.
Community. A brand community quickly went from a "nice to have" to a "must have." It doesn't matter what category a brand is in, it has to find a way to put forward its social mission and values, which are the gel for a community. For brands that already maintain communities, the next step is to activate it more, and more often. Marc Jacobs' WFH and Drawn Together, and GANNI Talks are examples of capitalizing on a brand's own creative community. Or, MeUndies is these days featuring customers willing to share selfies wearing MeUndies products on instagram. David Zwirner gallery partnered with the wider gallerists' community and launched Platform: New York, an online initiative to feature artists from twelve NY-based galleries. Allure magazine activated its community of stylists, makeup artists, photographers, and hairstylists. Or, going beyond its immediate readership, TIME Magazine launched TIME for Giving, a community of those keen to provide assistance to a list of charities and causes in need. The key here is for brands to stop thinking about their community just as top-of-the-funnel tactic, and consider it as a long-term, bottom-of-the-funnel strategy (bonding, advocacy, loyalty). Next step is to define and focus on the most valuable customer communities. Community management overall has to be more personal. For example, high-standard of customer service in physical retail stores can translate in the equally high standard customer service via WhatsApp, Zoom, and chat.
Content. Across categories, brands have been pivoting to livestream, lifestyle content en masse. Spurred by Instagram Live, every brand these days is in the business of enriching our lives - through recipes, daily meditations, virtual exercises, design hacks to fix our living quarters, life coaching, movie lists, poetry reading, puppy photos, and hobbies. While it may feel overwhelming at times, this lifestyle content pivot is a good thing: it moves the brands away from product marketing and forces them to explore, define, and capitalize on their cultural and social role. During the February lockdown in China, hashtags #StayInFashionGuide and #StayInPajamaContest drew audience of hundreds of thousands. Stay-in style manuals on WeChat, put forward by KOLs, promoted at-home stylish living and solicited "share your look" submissions on Weibo and held #WorkFromHome outfit contests. While situational, these calls to action open up agile content opportunities post-crisis. There's also a welcome content shift towards live programming and away from polished campaign imagery. Brands are currently asking artist and photographer friends to help them shoot new content from their homes, or asking their community to create something new every week, like Alexander McQueen did with McQueen Creators. Brands will hopefully embrace this lo-fi approach, and put forward scrappy, live, and real content focused on communal watching and socializing. Community-oriented content tends to do better at the moment (versus the polished influencer one), as the currently predominant memes and aesthetic language demonstrate.
Curation. With their marketing budgets on freeze and their campaign content in a distant future, this is a perfect time for brands to embrace the role of curators and bring forth their unique POV on everything from food to film and theater to architecture and pop culture. There has never been a better moment for a trip down the memory lane and for opening up the product archives. Very few brands are doing this (instead, they opt for tiresome PSAs) In contrast, Rihanna, ever my favorite, launched Fenty Social Club on Insta Live with performances and DJ sets. Somewhat far-fetched is the attempt of an Amsterdam hotel to bring the Easter weekend experience into your home, complete with a curated welcome basked mailed in and virtual concierge on call. With a little better to do, indulging in this hospitality-at-distance expert curation is not completely unreasonable. Airbnb is already doing it with its newly launched online experiences. On a more tangible level, fashion retailers can quickly reskin their landing pages to put forward tops suitable for those frequent Zoom calls. Curation plays a key role here: within a retailers' entire inventory, ask what are the especially Zoom-able items that consumers will gravitate towards? What are the comfortable bottoms to go with them? What is considered a desirable outfit in these days of working from home is new, and retailers can curate the best combos. Discounts have to follow the same curatorial logic that makes sales seem exclusive and special (e.g. "archive sale"), rather than inventory offloading.
Collaborations. The other week, I saw that Supreme collaborated with Lamborghini. While we may be well past the time when a fashion collab can excite anyone, the new breed of collaborations are springing up. They go beyond short-term commercial and PR buzz towards something with a greater social impact and no less buzz. Dairy company Chobani partnered with coffee seller Trade to support the community of independent coffee roasters. The effort is spurred by the common belief of Chobani and Trade that food (and coffee) can be a force for good. In a similar collaborative vein, aperitif company Haus launched The Restaurant Project, where it partnered with a selected group of restaurants across America to co-create nine aperitifs with their chefs. Hundred percent of profits go to the restaurants. Collaborations like these will become new Supreme + X.
This crisis is not a short-term acute emergency. It is a call to action for companies to pivot and hit a hard reset on the way they do business. The jobs to be done for a brand, going forward, are communal and social, and the business success is defined through how much a company supports other companies, how much it improves lives of their customers, how much good it does to its community, and what kind of society it reflects. Coronavirus won't kill brands. Complacency will.
---
East Fork launched a series of raffles, hosted weekly, to raise money for several different organizations focused on combating social and racial inequities. Their first raffle went live last week for Haywood Street Congregation and their Welcome Table initiative to provide meals for the most vulnerable people in Asheville. Stay tuned for their next one: their goal is to raise $100,000 overall.