Discover more from The Sociology of Business
A global analysis of how changing values change business.
Over 25,000 subscribers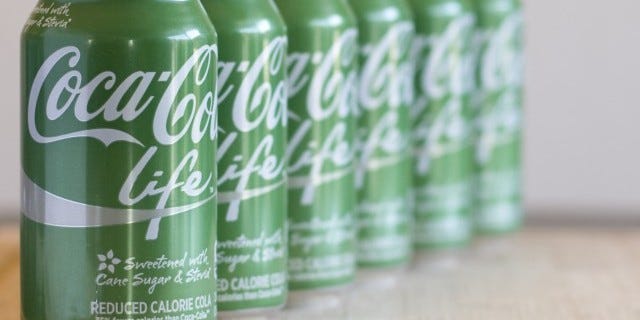 Like GMO food, GMO brands are the overgrown, monstrous, and tasteless versions of the real thing. They show up out of nowhere, grow rapidly thanks to the steroid VC money, and reach outsized proportions before imploding or rotting. There are a lot of GMO brands: Nasty Gal, Groupon, Away, Everlane, Brandless, Outdoor Voices, Greats, Honest Company, Modcloth, Harrys, Peloton, Blue Apron, Bonobos, WeWork.
All these brands follow the same software-inspired Silicon Valley playbook of the Rapid Brand Building. An obvious oxymoron, Rapid Brand Building happens when a company funnels their VC funds into brand aesthetics and the tone of voice, relentlessly repeated through witty PR blasts and equally relentlessly supported by the mainstream business press. 
This is not enough.
Tone of voice is not a brand. Being chatty, witty, and approachable only masks the missing cultural link that ensures brand durability. It also masks the missing unique value proposition. GMO brands do not compete on the actual business value, like technical innovation, design, or product quality. Away's sells Muji knockoffs and Casper's subway riddles didn't do anything to fend off its lackluster IPO. Competing on a tone of voice is not a real, durable, advantage.
Having a lot of followers is not a cultural voice. A cultural voice is someone who's earned their stripes and not just tells a tale. "In the early 90's, we were all rooted in some sort of subculture. For example, skateboarding or graffiti or punk rock. Versus brands today, they are not rooted in any sort of subculture. They just sort of appeared out of nowhere," notes Erik Brunetti, the designer behind the label FUCT. Designers like flea markets not only because they are aware of circularity of fashion trends, but also because they can riff of known cultural references. A cultural voice is achieved through dialogue and an exchange with other cultural forms: Balenciaga and Hello Kitty, Valentino and Henry Rousseau, Sacai and Funkadelic, Stella McCartney and Dick Straker, Dries Van Noten and Christian Lacroix. 
PR doesn't build brands. PR agencies are not in the business of brand building, no matter how much they'd like to or claim to be. They may optimize the brand for "cultural moments" and do the modern version of propaganda (repeat, repeat, repeat), but they do not have the strategic and creative know-how needed for building legendary brands. Nike's chilling tribute to Kobe Bryant was done by a creative powerhouse, not a PR company. To avoid becoming GMO, emerging brands should take notice and invest in working with the brand building pros. 
A well-executed media blitz is not a creative campaign. Having a perfectly planned rollout creates momentary awareness, but rarely makes lasting brand associations. In contrast, great creative stays with us for decades: vintage Coca Cola ads, anytime LEGO ads, Apple ads from the '80s (Think Different, 1984). Its lasting appeal is in its craft, and sometimes even art - and because it provides infinite number of memes, references, clues, and myths that then assume the social life of their own. Creative's job is make the raw material from which consumers compose and socialize the brand image, and together with other elements of marketing communication, experiences, partnerships, and events, to create a recognizable universe of cultural associations, values and experiences.
Delayed gratification is a feature, not a bug. Performance marketing and paid social carpet-bombing, no matter how targeted, do not create a human connection that all durable brands have and that makes them durable in the first place. A quick rush of sales following a paid social campaign or a stunt should not be a sign of positive ROI, but an inverse measure of brand loyalty. A human connection doesn't mean having just a group of superfans (after all, Outdoor Voices excelled there), but reaching a large number of taste communities and consumer networks. Allowing time for organic brand discovery is critical in this process: different consumer groups need randomly and serendipitously discover a brand through their own networks. 
Brands require devotion. It's easy to forget that Supreme has been around for twenty five years. Like comics or underground music, a streetwear habit in the 1990s required dedication. There used to be holy sites, like Canal Street Jeans, Phat Farm or Triple Five Soul. Today, there are myths, associations, and other sneakers or t-shirts that pre-exist the current releases and drops. Supreme has a narrative that exploits and highlights a relationship to the past: the references, the history, and the story. Thanks to it, Supreme today can successfully brand a brick and sell a punching bag on Grailed for $1475. 
Trust requires time. With his idea of pre-contractual solidarity, founder of sociology Émile Durkheim proposed that there need to be some general conditions of exchange before and outside of any specific interaction. Hermès orange, Louboutin red and Tiffany blue quickly signal a shared understanding of the "general conditions of exchange" and create trust between a consumer and a brand. So does a brand mission. LEGO's mission is to "inspire and develop the builders of tomorrow." In contrast, Lululemon wants to "elevate the world by unleashing the full potential within every one of us," which is, perhaps fittingly for this brand, a yogababble.
Just as GMO food doesn't do anything nutritionally for humans, GMO brands don't do anything for culture, or for their company's long-term business. Without a connection to culture, Coca Cola is just a carbonated water and syrup. Today's VC time horizons do not allow for the next generation of Coke legends; instead, they churn Coke Lifes.
* Thanks to Jessica Davidoff, Founder and CEO of Spezzatura, a company specializing in sustainable corporate growth, crisis management, and business repositioning, who first came up with the idea of GMO to describe growth of some of the DTC brands
Terms:
Mechanical and organic solidarity
Bonus Feature:
3 questions with Steve Dool, Head of Brand Partnerships at Depop
1) As someone who has been covering fashion and now is working in retail, what keeps you excited about social commerce?

The thing I find most exciting about social commerce is the potential it unlocks for creative entrepreneurs to get a leg up toward building legitimate businesses for themselves outside of traditional retail or wholesale methods. Some of the biggest brands in the world that are viewed as tremendously successful by most of the usual metrics still struggle with community-building or maintaining a legitimate connection with their customers. For people starting out to have platforms that not only enable that direct contact, but rely on it, can be extremely helpful for shaping inventory, brand identity, pricing—everything that defines their USP from the start, in real time. It's incredibly powerful to have that kind of connection, feedback and insights from Day 1, and can be liberating for people without the type of financial means to launch businesses with a big retail partner or a slick and pricey e-commerce site.

2) What does social commerce offer that traditional commerce, either online or offline, doesn't?

E-commerce as we know it has come to rely on all of these little built-in moments to replicate the personal touch that shoppers can find in brick-and-mortar shopping experiences. The chat bots, the algorithms for recommending similar products, the automated post-purchase follow-up. Some are more effective than others, and some are absolutely adapted and integrated into social commerce platforms, too, but the promise of social commerce is the necessary one-on-one personal contact. It's built in. There isn't a way to replicate offline shopping in that regard, but offline shopping is limited geographically. Social commerce is better positioned than traditional e-commerce to meet that need for a wider audience. And all of this is not even mentioning the premium that younger shoppers in particular place on recommendations from peers over brands in terms of influencing purchasing decisions, another added benefit of allowing consumers to shop from people with similar interests and points of view, as opposed to brands that cater to their aesthetics or preferences.

3) In addition to Depop, who is doing a good job in this space? What would you say is emerging as a winning scenario?

At the risk of sounding like I'm toeing the company line here, I'm not sure that anyone is doing it as well as Depop in the fashion space, at least. Shoppers certainly click shop on social platforms with checkout options, but these are best positioned for big brands and especially influential influencers who already have huge audiences who seek them out and line up for their big drops. The Kylie Jenners of the world could probably set up a network of carrier pigeons and still turn a profit. I will say that I'm most interested in seeing how the social commerce element plays out on TikTok, which is introducing shoppable content earlier in its trajectory than so many other social platforms we've watched launch monetization efforts. I guess there's something very 2020 about buying stuff from someone who made their name dancing or jumping off the side of a building or whatever.