Discover more from The Sociology of Business
A global analysis of how changing values change business.
Over 26,000 subscribers
Rebellion, Inc.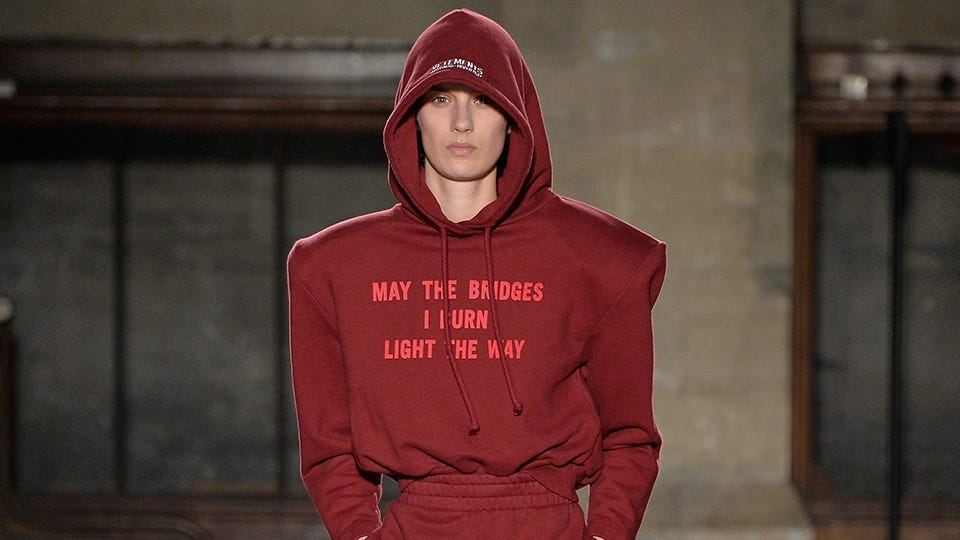 Anti-heroes are in. One can hardly look around politics, economy, music, fashion or culture and miss a contrarian. The attitude has seeped into society, where it's cool to be a rebel, or at least, to look like one. "May the bridges I burn light the way," says Vetements' oversized zipper hoodie.
Romanticism of the rebellion has been adopted as a modern brand marketing tool. Savvy brands and individuals have noticed that, under the guise of revolt, they can successfully sell their image and their products to the masses flirting with anti-establishment.
But there is very little anti- in this establishment. It's easy to get seduced by the "think differently" manifesto without realizing that it has since become paralyzing for the very company it propelled into fame. How differently Apple thinks today is beside the point: the important thing here is that acting like an underdog has been incorporated by those best positioned to capitalize on it.
The success of Vetements, Hood by Air, Yeezy, Rihanna x PUMA, Beyonce's Lemonade or Tidal shows how lucrative Rebellion, Inc. truly is.
Louis Althusser would have approved: Rebellion, Inc. is the superstructure if there ever was one. Pay $1265 for a Vetements hoodie, and you can look like a restless hooligan from the Eastern Block, ready to smash the Berlin Wall. Except, you actually don't have to do anything.
It's much easier to purchase yourself a political representation than to work on developing one. Fashion has become our grassroots activism: whatever your thing is, there's a shirt with a slogan to express it. Rebellion, Inc. lets us buy our discontent, so we don't actually have to act upon it. We can vicariously ease out of our frustration though the Rihanna, Kanye or Beyonce's music or through Gosha Rubchinskiy, Supreme or VFiles clothes.
What we buy — and what we buy into — are the same thing. It all happens in the socio-technical domain created by the hacker culture, which expanded from the tech industry and the startup world into the mainstream. We are all hackers today, creatively appropriating easily accessible and diverse political, social and cultural influences. Political engagement is commercial engagement, and fashion companies have taken notice.
In 2014, a Chanel fashion show took a form of a feminist street protest, together with slogans, pamphlets, flags and incredibly good looking demonstrators modeling incredibly expensive clothes. Moschino's 2016 print advertising is all about tear gas, sledgehammers and carefully styled street chaos. PUMA made a fortune last year off Rihanna's carefully crafted misfit image. The all three seasons of Kanye's fashion line Yeezy are sold out.
For some hard-earned street cred, Alessandro Michele pulled in Gucci Ghost, a previously little-known graffiti artist, into collaboration on Gucci's new collection. Famous, if stale, Italian menswear brand Brioni brought on heavily tattooed Justin O'Shea for what turned out to be a very short tenure, even by fashion industry's standards. The always timely Met Gala (remember those disturbingly alike robot looks from last year's Manux x Machina theme?) is celebrating the proto fashion punk, Rei Kawakubo of Comme des Garçons next May. Desperate for relevance, Barney's staged an elaborate lifelike Hood By Air windows display to reflect its avant-garde fashion show. The Upper East Side ladies who lunch were shocked.
While modern fashion culture makes us feel like revolutionaries without a revolution , upending of established political and social structures comes from those who, by Rebellion, Inc. standards, don't look the part. There is nothing romantic or stylized about their discontent or the way they express it.
Today's real antiheroes and underdogs are reactionaries. Progressives are for the status quo. A disturbing thought that nevertheless might shake us out of our seductive revolt narrative and back into messy reality.
This article was originally published in Brand Quarterly.