Discover more from The Sociology of Business
A global analysis of how changing values change business.
Over 26,000 subscribers
Pajama Street Party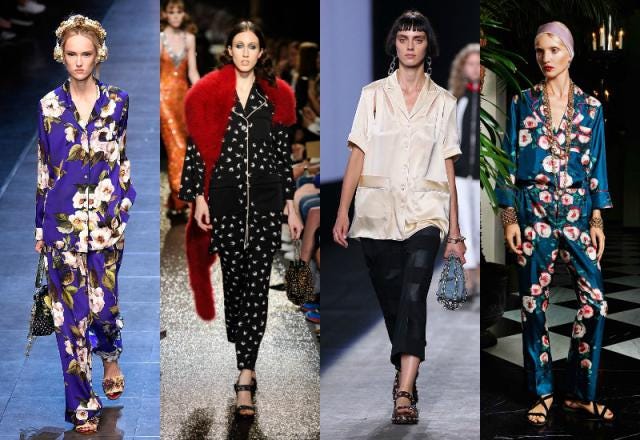 The coolest Instagram account of the moment isn't Gucci or Balmain or even Vetements. It's F.R.S or For Restless Sleepers, a brand whose items makes us want to leave the house in our pajamas. Favorite of Net-a-Porter, My Theresa and Farfetch, For Restless Sleepers boldly proclaims that "the indoors becomes outdoors" and devotedly lives by this credo.
The trend of nightwear-as-daywear may not be new, but its steady momentum turned it into an athleisure-like phenomenon. For today's fashion-savvy consumer, it may not be enough to be comfortable in $400 technical cashmere. Pajamas are where things are at.
Luxury nightwear market exploded in the recent years, but outside of a few notable public appearances at runways and events, has since been mostly confined to bedrooms. Ariana Huffington's sleep revolution notwithstanding, today's streetwear pajamas have more to do with the slowly rolling fashion zeitgeist than with the nightly rest.
Originally introduced as outwear by Coco Chanel, pajamas have found its more recent interpretation in Dolce & Gabbana, Givenchy, Lanvin and Gucci. While the trend has not been the one to take a quick hold among the consumers, it may easily prove to have the staying power. This power rests on the fashion audience's changing personal, cultural and fashion attitudes.
Aside of the obvious — versatility, comfort and bold designs — pajamas as a personal attitude reflect the unique abandon of private versus public space dichotomy. They are the emotional response to the Internet culture where everything is simultaneously public and private, masculine and feminine and out-there and hidden.
Culturally, pajamas signal ironic independence from clutches of the fashion trends and the latest "it" dress, shirt or pants. Only those among us who are the most individualistic, free and confident in their own taste opt in for silk pajamas as the evening wear or work wear option.
Fashion-wise, outwear pajamas are a statement of being plugged-in and street. There's the same reverence of the streetwear and the same feeling of belonging to an insider group. Brands like Piamita, Maison de Papillon, Sleeper or Yolke appeal to this glamour-street sensibility, marketing their items as a carefully nurtured, acquired taste.
Pajamas should not be confused with nightwear. Once consumers get used to seeing them everywhere and start warming up to the idea of their silky versatility, a new category of clothing can be expected to emerge. Hansel, Rihanna or Joan Smalls are already onto it.