Outsider Innovation
Change comes from the marginalized
I write weekly newsletter about how the new forms of social, cultural, and environmental capital change brand strategy. If you enjoy this issue, please like it above, share it with anyone you think may find it useful, and subscribe below: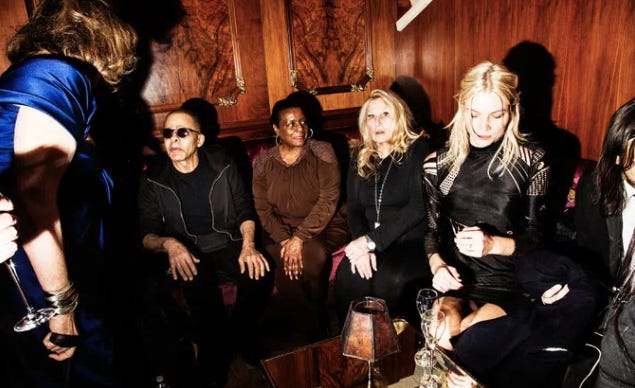 The year is 1973, the place is Versailles, the guests are Grace Kelly, Andy Warhol and Marie-Hélène de Rotshschild. Five established French designers compete against five American designers in a fundraiser to renovate Versailles. 
Organized by a publicist Eleanor Lambert and a curator Gerald Van Der Kemp, the event aimed to show that American fashion industry is a force to be reckoned with (or at least, paid attention to). On the French team, there were Yves Saint Laurent, Givenchy, Ungaro, Cardin and Marc Bohan. On the American team, there were Bill Blass, Anne Klein, Oscar de la Renta and Stephen Burrows.
Who won?
If Robin Givhan, author of "The battle of Versailles" is to believe, "ultimately, it was the Americans who stunned the crowd that night — less with their craftsmanship than with their success in capturing the spirit of the modern woman through both their clothes and the pure energy they poured into the show."
A lot of this excitement has to do with Stephen Burrows. The youngest of the group, and the only African American, Burrows belonged to the 1970's "Fun City" disco scene in New York City. His aesthetics has been described as "what American fashion was all about." Per late Karl Lagerfeld, "Burrows is the only original American designer since Claire McCardell. He created his own rules about cut. It was sophisticated, original, unorthodox."
At the event, Burrows' clothes were worn by eleven iconic Black models: Bethann Hardison, Pat Cleveland and Billie Blair among them. They danced to a soundtrack of Al Green and Barry White and the entire affair was described as a "small musical." (French models walked to the sounds of a live orchestra).
Fast forward to 2020, and the lessons of Stephen Burrows and the Battle of Versailles are unchanged:
The 80:20 rule. 80 percent is storytelling and 20 percent is product. Just like the Battle of Versailles was a show, a performance and a "mini-musical," Telfar's shows are multimedia performances with a strong theme and a message. Most recent one was about American Dream by those overlooked by it. Kerby Jean-Raymond's 2019 show was described as an art project that told American story in three parts, titled "American, also." Cowboy iconography and black, brown, queer narrative featured prominently in both shows. 
Friends, not clothes, create culture. Similarly as today Telfar Clemens original designs are made for his friends and the wider queer artist and musician downtown scene he supports and belongs to, Burrows made clothes for his friends who partied at Studio 54 (today, a lot of his archive is missing thanks to that).
Look at the edge, that's where the future is. Those excluded from the game usually understand better what the game's about than the insiders. There's a current momentum behind those neglected or insufficiently served by the fashion, both designers and consumers. They are proving that stuff that happens outside the established industry structures is the stuff that matters: new designs, new narratives, new presentation formats, and new business models. They don't play by the rules of the game they're disrupting. As Clemens put it: "Transformation is not working with an establishment brand. Transformation is what we are doing independently and directly."
Mood is everything. A brand either has it or doesn't have it. Brand mood is its aesthetic universe, ideas, values, beliefs, music, the energy of people and places, the crowd it gathers and the crowd that gathers around it. Beyond Telfar, there is Marine Serre, who perfectly captures the protection-seeking apocalyptic mood of the moment with upcycled materials, full bodysuits, face masks and gloves and armbands made into backpacks.
Art is the opposite of hype. Art is social and cultural critique, a constant questioning of what's going on in the industry and in the world, exploring and preserving one's independence while doing so. Putting something in a museum doesn't make it art. 
You can watch Versailles '73: American Runway Revolution documentary here and Battle At Versailles: The Competition that Shook the Fashion Industry here.
---

"Ana was the first guest on the Inspiring Futures podcast and it was great to have her back on the show to talk about her new book - The Business of Aspiration.The book is all about a new way for marketers and strategists to think about the interaction and intersection of brands and consumers. How brand value is now found in social good and the power of niches which serve as distinct worlds and cultures which create their own brands, but places where bigger brands need to connect. We talked about the importance of curators as providers of knowledge for those consumers who want to acquire category and brand expertise." - Ed Cotton, Inspiring Futures
Listen to our conversation here.
---
My book is coming out on October 27th. It's about what happened to taste, communities, and social influence when the economy shifted from manufacturing things to manufacturing aspiration and how this changes what we find valuable and worth paying for. You can pre-order here or check out the book's website here.