Discover more from The Sociology of Business
A global analysis of how changing values change business.
Over 26,000 subscribers
New tech touchpoints aren't killing retail. They're bringing it back to its personal roots.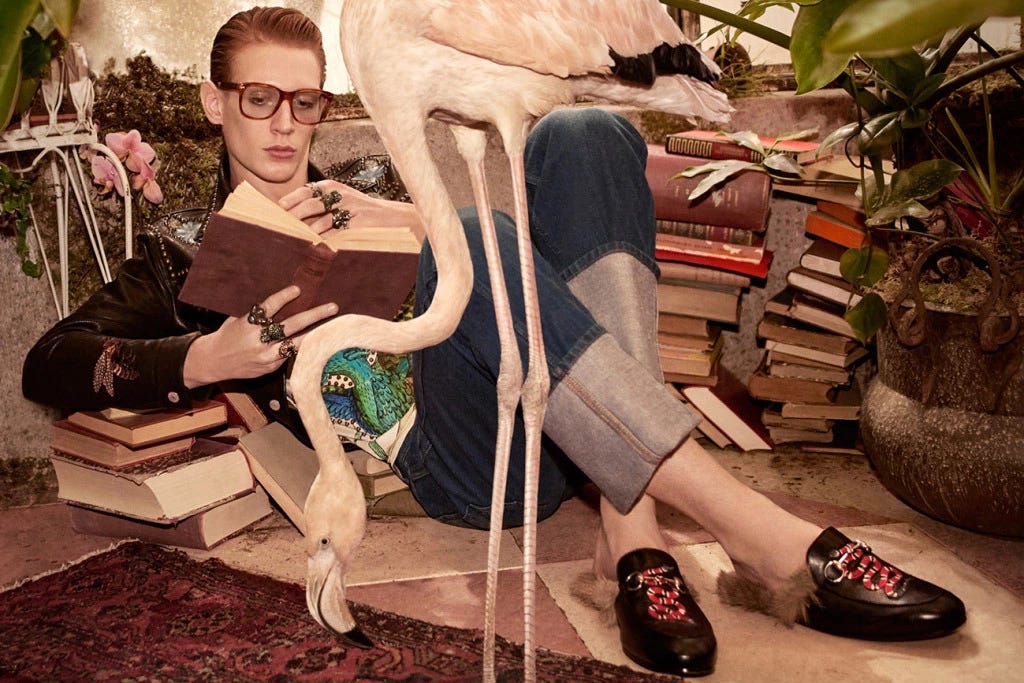 "Alexa, order a dress that Pernille Teisbaek wore on June 19 that I saw on her Instagram."
Voice interface does for 21st-century shopping what the department store did for the 20th and family shops did for the 19th: It summarizes the consumer desire in tangible form. It shows us where decision-making lies and honors the organizing mode of retail.
In the 19th century, it was the neighborhood store. In the 20th, it was the shopping mall. Now it is the consumer.
How consumers shop changes what they shop for. More ways to buy something doesn't mean just more retail opportunities, as the idea of "omnichannel" would like us to believe. More ways to buy something means buying different things.
Say, for example, a person named Sophie is buying a Gucci dress in Milan. The dress may have caught Sophie's eye because it was on a mannequin or because someone else was trying it on or because a sales assistant complimented how it looked. If this same person goes to farfetch.com, she may be influenced by F90 delivery service that brings selected Gucci products from store to door in 90 minutes. Or maybe the site's editorial content and curation will draw Sophie to a completely different product made by a different brand.
Digital isn't influencing purchases. It's transforming them
Products that are highly Instagrammable, like statement earrings or bold colors, are more popular and get made more. Product shareability has become a legitimate design decision, as most items are going to be viewed exclusively online. Online viewing and sharing is also increasingly all it takes when it comes to consumption: Why do we even need to buy something if we can just Instagram it? The sense of individual expression and social validation are just the same.
Ecommerce took away the need to go to a store to browse, try on and buy clothes. Social media removed the need to own them. Voice interfaces diminished the role of brands in connecting products and consumers.
This is the ultimate retail conundrum. Our purchases today are not digitally influenced; they are thoroughly transformed by each individual retail touch point. To make things more confounding, each touch point has a new user experience, a new value proposition and a new cost structure (the cost of customer service, algorithms or human curation differs for a voice interface, a website or a physical store).
A truly modern retailer centralizes rather than fragmenting
One way to solve this conundrum is to create a strong brand narrative and an integrated operational back end with a single cost center, merchandising, analytics and customer database. Net-a-Porter is a good example. It centrally manages all its customer touch points and connects them into a recognizable experience.
Legacy retailers operate through a fragmented value chain. They lack both the umbrella narrative or an integrated operational back end. They manage their different touch points (physical retail, online retail, mobile, social) as separate operations. When one of them fails, like a physical store, the others can't compensate for it.
This conundrum has happened before, with newspapers. When we changed where and how we read, we changed what we read, with vast consequences for the industry. Today, nearly 80 percent of all online referral traffic and online ad income comes from Google and Facebook. But these two companies do not do costly investigative reporting. They are aggregators who make today's market for news. The market they make, because neither of them has fixed costs of creating news, leads to commoditization of news supply.
In retail, newly created networks and aggregators (Farfetch, Zalando, Alibaba, Amazon) create a similarly commoditized market. On the upside, this market allows small companies to compete as effectively as large ones. In their fight against commoditization, the small companies lead the way.
"We don't want big numbers. We want engaged, quality readers, listeners, viewers," noted Tyler Brûlé, founder of the Monocle brand. What they lack in scale, this next generation of direct-to-consumer companies make up in customer intimacy.
Building successful retail means building relationships
To differentiate in a market created by retail networks and aggregators is to have a strong, personal and deep-rooted bond around your audience's passion points. It is about managing an ongoing relationship with a very specific set of customers that enables their specific lifestyles.
The internet created a landscape that is much less about brands and much more about people talking about themselves. Smart newcomers, like Goop or Glossier or Away, capitalized on this. They capture consumer imagination not by crowbarring themselves into conversation, but by being the subject of it. They invested in offline activities, communities, content and collaborations as their audience-building strategies.
In the process, the new retail models built businesses that are meaningful and that people love to talk about. For them, the internet is not just another place to put old-school messages, taking up space in between people discussing more interesting things. Instead, Goop, Net-a-Porter, Away or Lululemon are those interesting things.
Retail newcomers show an understanding of connected culture that goes much deeper than the legacy retail brands throwing millions of dollars at the latest tech, hoping something will stick. They succeed because they look for the future of retail in its past: in the intimate, local, one-on-one human connections responsible for creating loyalty in the first place. Today's mass is a collection of niches and local influences. Thanks to 21st-century technology, the corner store of the 19th century is making its resolute comeback.
This piece was originally featured in Adweek on July 28, 2017.