Discover more from The Sociology of Business
A global analysis of how changing values change business.
Over 26,000 subscribers
New Heroes, Cult Objects, and Days of Glory
Who, what, and how we celebrate in the pandemic world
I write weekly newsletter about how the new forms of social, cultural, and environmental capital change brand strategy. If you enjoy this issue, please like it above, share it with anyone you think may find it useful, and subscribe below. This week, I accompanied it with an Episode of Business of Aspiration, where spoke with founders of East Fork, Connie and Alex Matisse. Scroll down to watch our conversation.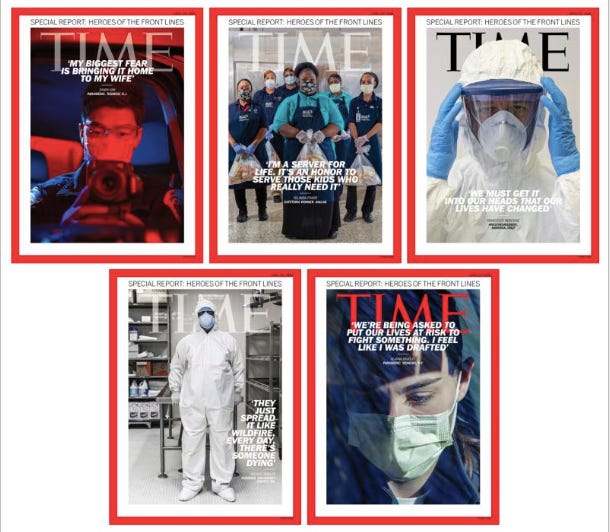 More than 20,000 people signed a petition to name Dr. Anthony Fauci the "Sexiest Man Alive." The honor is bestowed annually by People magazine, and past honorees include Hollywood stars, musicians, and celebrities like John Legend, George Clooney, Brad Pitt, and The Rock. Dr. Fauci is the Director of the National Institute of Allergy and Infectious Diseases.  
These days, our heroes are carers and healers: nurses, doctors, drivers, cleaners, postal workers. The invisible, underpaid, taken-for-granted, they came together to protect us from the pandemic. In her recent speech, the Queen of England expressed her hope that "in the years to come, everyone will be able to take pride in how they responded to this challenge."
Tell that to fashion influencer and proto-blogger Arielle Charnas. 
We were unprepared for this crisis because our national heroes are soldiers and warriors. Our social heroes are nuclear scientists and tech inventors. Our cultural heroes are influencers and celebrities.
In the past several decades, we moved from "we" to "I": to Silicon Valley visionaries to Avengers to cult personalities of self-actualization, focused on getting, not giving. "We get one life, so why not milk the shit out of it?", asks Gwyneth Palthrow in her GOOP Netflix trailer. 
Our worldly success outbid our desire to be a good person, resulting in fraying of the social fabric of our communities and demise of traditional institutions that held them together. We put radical individualism ahead of society, and ignored the secondary effects of our choices. This wasn't hard to do: climate change was something that happened in the future and far away (until it didn't) and a deadly virus was invisible and foreign (until it wasn't). 
Our job now is to make the secondary effects of our choices - what our individual actions do to our communal ties and our environment - visible. Making these further-out effects visible will force us to take them into account.
"If men define situations as real, they are real in their consequences," says Thomas theorem. There never was a better time to interpret this deadly global pandemic as an opportunity to reorganize our communities around new influencers, aspirations, social rituals, and habits. 
New Heroes
"We will succeed," promised the Queen. "This time we join all nations across the globe in common endeavor. Using the great advances of science and our instinctive compassion to heal, we will succeed, and that success will belong to every one of us." To the Queen and to David Bowie, we can all be heroes, because our individual decisions matter. They impact our self-perception and the way we present ourselves in our interactions. The way we socially label ourselves becomes, in the self-fulfilling prophecy, part of our identity. Our individual decisions also impact others. If we self-quarantine, our neighbors are more likely to do the same. If we wear a protective face mask in the supermarket, we set the example for others. If we stand 2 meters apart, we signal necessity of social distancing. 
There has been a lot of talk about how social media influencers and celebrities are behaving in this crisis: do we want to hear from them, do we not want to hear from them, and if we hear from them, what they should say. Consensus seems to be the less, the better (there are, of course, exceptions). We are not looking for travel inspiration and don't suffer from FOMO. We are looking for a kindred spirit, shared circumstances, and realness. 
When it comes to realness, we are looking up to people who are at its forefront. An emergency room physician Darien Sutton is on Instagram, where he shares public health measures and occasionally (and rightfully) calls out irresponsible social media influencers. There are more like him: we now gather around medical influencers, nurse influencers, but also home exercise influencers, meditation influencers, baking influencers. 
People are also approve of brands and establishments that turn to positive social action. Eleven Madison in New York reopened as a communal kitchen that serves nearly 3000 meals a day to doctors, nurses, and essential workers throughout the city. Some raise a pint virtually for local bars, others turn their car dealerships into a delivery fleet, or their hotel rooms to medical staff, like Hilton did in partnership with American Express.
Right now, we turned our attention away from brands and influencers promoting consumption towards our own socially responsible behavior and to those enacting social cohesion, responsibility, and compassion. This is a good thing. It expands the playing field of who and what we want to identify with and aspire to be and do. It also reorganizes our communities under different personality cults: more generous, pro-social, and giving.
Cult Objects
"The city was one's dining room, living room, and extended home - rather than the apartment, which is just where we went to sleep at night," writes Elizabeth Currid-Halkett in her book "The Sum of Small Things." Even for 2017, when this book was published, this view feels dated: it's somehow closer to the "Sex and The City" era than to anyone's actual behavior. Some years before "Coronavirus and The City," young people came to conclusion that going out requires "too much effort." Instead, they started to invest in plants, cookware, meditation cushions and decorative pillows, candles and bath bombs. "The Great Indoors" is the title of 2017 Ssense article, which captured emerging trends like hygge, baths, and spending more time in one's home. In 2019, author and consultant's Venkatesh Rao term "domestic cozy" was officially elevated to the level of a coveted lifestyle. 
Forget the latest Fendi bag, today's cult objects are pajamas, homeleisure, sourdough bread, a Peloton bike, a yoga mat, a collection of plants. We have already carefully weaved these objects into our social routines and taste regimes, as reflected in the boom of magazines and brands that revere the ordinary and the everyday. "This is the stuff life is made of: sparks of beautiful, ordinary hope," writes Ruby Tandoh in her Eater essay on food.
Today, focus on the ordinary is a matter of survival. By staying at home, we prevent virus from spreading and protect others. By focusing on the everyday, we keep ourselves sane. 
But habits become institutions, per sociologists Peter Berger and Thomas Luckmann. Any action that's repeated frequently "becomes cast into a pattern." Our daily rhythms in isolation - cooking, exercising, working, decorating, celebrating holidays, and even mourning - become rituals of social cohesion. When social structures collapse, rituals of domesticity is all we've got. 
Consequences are far-reaching. Institutionalized domesticity impacts economy, as it shapes our spending and leisure. Institutionalized social distancing impacts much more. Direct economy - in food, hospitality, entertainment, and culture - emerged from the forced lack of direct social contact, and is bound to stay. Quartz reports that Chinese consumers have cut spending on "trivial things." Among things that were cut is buying coffee in coffee shops, and instead making it at home. As spending and leisure patters rearrange themselves, so will the consumer economy. Brands should pay attention to what consumers are doing right now - how they organize their days through rituals and daily rhythms - to get a glimpse of their future behavior.
Days of Glory
A social script is the pre-established pattern of behavior that people are expected to follow in specific social situations. Right now, most of our social scripts have been torn apart: we cannot greet each other, celebrate, grieve and burry our dead, or sit by the bedside of our sick. 
At the same time, the new social scripts are being formed: checking in on the elderly and the vulnerable, volunteering, having a better hygiene, being comfortable with telemedicine, working from home, taking care of the homeless. Micro-changes in everyday life are influenced by macro-changes (like this pandemic). Vice-versa is also true, and our instinct to imitate and conform changes both our behavior and the way we view the world, and is a powerful tool towards more generous, responsible, and compassionate social scripts. 
The new narratives are already emerging: the Gruffalo author Julia Donaldson drew her characters socially distancing and helping the vulnerable with their shopping. Culture is ready to gather (virtually) and entertain: TikTok is hosting a free 48-hour livestream festival, and a big number of outlets, from theaters to opera to clubs are streaming their content directly. 
Brands, en masse, started to put forward stories of collective capacity for action and duty to care. By their very nature, brands are uniquely positioned to carry these new narratives out. At the moment, radical individualism is out, social connection is in. Brand focus is not on the end customer, but on the communities they belong to. Just as personas made individual consumers visible, the new brand methodology makes visible consumer communities and their co-dependencies and influences. New focus of engagement plans is not just on the brand actions, but on their secondary effects. Pre-pandemic consumer-centric brand strategy is now society-centric strategy. 
In the past month, the Western culture has, out of necessity, become more "we" than "I" (with the wellness industry caught in crosshairs). The Queen asked us to put our moral selves ahead of our economic selves. There is a clear aspiration to have a more robust health systems and public services; more collective-oriented and equal society; and to course-correct political agendas. 
In the meantime, there's pop-culture. Our dress, memes, aesthetic, and language are changing, and not only because of Tiger King. Kanye, ever the innovator, seems to have already adopted the hospital gear aesthetic in the form of his Season 8 boot. Face masks have been hailed as new sneakers, and indeed, streetwear face mask market is lit.
If our lexicon has been full of military metaphors ("take a stab at something," "attack a problem"), maybe now it will get replaced with the nursing, caring, and healing metaphors. "It took a nuclear disaster to get me to do it," said one food wholesaler in the middle of the deadly global pandemic to describe his business pivot. We still use phrases like "nuclear" and "WWIII" and root for lone heroes out on mission impossible 19 to save the world. 
This crisis is finally forcing us to consider communal heroes, and to celebrate ordinary people who distinguish themselves by going against their social instinct to benefit the community. Hard-won experience, intelligence, and competence are all of the sudden sexy. It better be: what we do now will be evaluated by Greta Thunberg's generation, and the generations that follow. The value we put forward now are the values that future will rest on. 
---
The Business of Aspiration
A video series by Ana Andjelic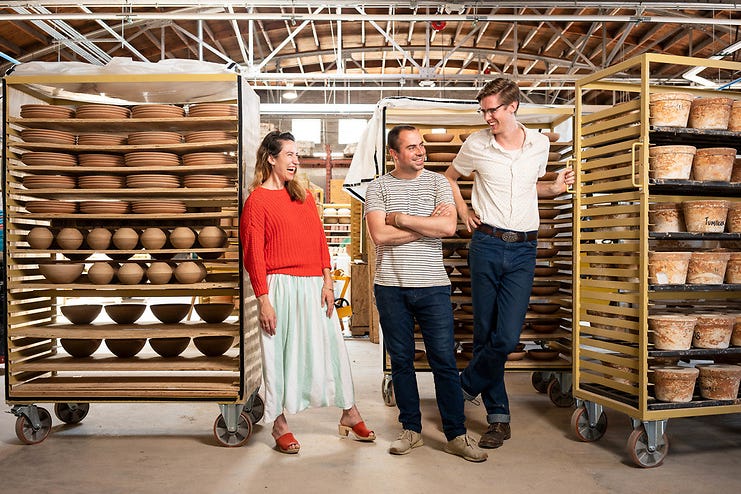 In this episode, I spoke with Connie and Alex Matisse, co-founders of East Fork. East Fork is a company that makes and sells contemporary ceramic dinnerware made by hand with regional materials and a lot of integrity in the Blue Ridge mountains. East Fork's mission is "to support our quietest, most private rituals and bear witness to the full breadth of our domestic life." We talked about taste communities and taste regimes, holistic brand management, community-building, smart marketing, and the benefits of being a vertically integrated company. Enjoy the conversation (editing, not so much).