I write weekly newsletter about how the new forms of social, cultural, and environmental capital change brand strategy. If you enjoy this issue, please like it above, share it with anyone you think may find it useful, and subscribe below: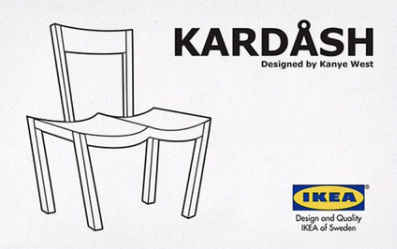 *The image above is actually a spoof by IKEA Australia. IKEA's collaboration with Kanye never happened.
The DJ model of growth is when a company uses collaborations to increase its relevancy and revenue. This model addresses the challenge of growth in mature markets.
The DJ model is used by mass retailers who sell products that are easily commodified, like Swatch or Uniqlo, and also by legacy luxury retailers with a global footprint, like Louis Vuitton, Moncler or Mini.
The strategy behind the DJ model of growth is a remix: the DJ model keeps reframing a brand for customers in a new context.
The DJ model reintroduces a brand in the market by remixing it with different parts of culture, community, technology or natural environment. A constant stream of new brand associations and attributes keeps a brand image fresh and a brand visible among consumers and cultural commentators alike.
For example, despite being founded in 1970's, Uniqlo keeps its brand fresh through collaborations with a range of fashion and streetwear designers, artists, furniture designers, and restaurants. Keith Haring, Jil Sander, Eames, Undercover, Lemaire, a series of Japanese ramen shops and J.W. Anderson all made the cut.
Or, MINI invites each year different designers to create a new interior for its cars. Past designers included DVF, Roberto Cavalli, Versace, Tumi, Dsquared2, Diesel, and Calvin Klein. Mini also collaborated with Airstream on S Clubman Airstream Concept and The Woolmark Company.
Just like a DJ remixes music, DJ model of growth lends a brand a trendy positioning, removes the barrier to a brand's image and extends a brand's appeal to multiple audiences. People who'd never consider a brand before line up to get a collaboration, which can lead them to re-evaluate their brand perception and become curious about products from a brand's core range.
Thanks to brand remixes, the DJ model achieves multiple business goals. It uses brand extensions to diversify into different product categories and to cost-effectively attract different customer segments, increasing sales and margins. It gives halo effect to the core collection. It provides a permanent thrill to design-conscious curators through novelty and limited-edition collections. By inspiring consumers to pay more, the DJ model increases a brand's market not only in volume, but also in value.
Customers pay premium for innovation in value. The growth motor ceases to be price, and becomes taste, thrill and desire. Growth comes from trading in aspiration and from social, cultural, and environmental value that brand remixes create.
The DJ model is powered by a dual brand management: one of the exclusive, selective, and premium-priced collaborations, and other of the accessible, mass, core collection.
Example: IKEA
Rumor has it that one in ten Europeans is conceived in an IKEA bed. According to the IKEA website, one BILLY bookcase is sold every five seconds somewhere in the world. With 433 stores in more than 50 countries, IKEA is one of the biggest global furniture retailers. In 2019, the company's global revenue was $48.5bn.
With its massive scale and ubiquity, IKEA can easily fade away from the cultural and consumer consciousness. Instead, the company successfully sells commodities while preserving its brand equity and capital.
The formula behind IKEA's success is twofold.
First, several years ago IKEA stopped being a furniture company. Instead, it redefined itself as a "source for affordable, well-designed everything." Design has been at the IKEA's core ever since the company set to democratize it. (Today, IKEA hosts a Democratic Design Day, a global annual press event.) IKEA was launched at the time when quality modern furniture was expensive and inaccessible to many, and it redefined what an aspirational lifestyle means. "To design a desk which may cost $1,000 is easy for a furniture designer, but to design a functional and good desk which shall cost $50 can only be done by the very best," noted the IKEA founder. The brand brought great design to the masses, and the company is still driven by the credo of "a better everyday life for everyone." By extending its design philosophy from furniture to "everything," IKEA's successfully renews its brand identity and positions itself for a cross-category growth. This growth today includes electronics, sports, scent, technology, sustainable materials and IKEA's first apparel collection. Fittingly named "Efterträda," meaning "successor" in Swedish, the collection begets the question whether IKEA apparel is next in line to its furniture.
Second, IKEA successfully manages and sustains multiple brand extensions thanks to its strong culture, the clear set of values and the recognizable design aesthetics. The brand is deeply rooted in its provenance (IKEA stands for the initials of its founder, the farm he grew up on, and the village where the farm was located) and in Swedish values (simplicity, unpretentiousness, egalitarianism, frugality). Thanks to its aesthetics, described as "global functional minimalism" by Bill Moggridge, the brand easily means multiple things to multiple people, without diluting what it stands for. Thanks to the clarity of its culture, the brand effortlessly extends to new uses and new situations and still stays true to its core values. Since it has a clear North Star, IKEA also successfully absorbs a range of brand perceptions: from cheap to trendy, modern and innovative.
IKEA's tone of voice, communication, and products all recognize these different perceptions, showing astute cultural understanding and self-awareness uncommon among brands. Recently, the brand created LYSKRAFT, inspired by IKEA-hack communities and celebrating the consumer creativity. IKEA's advertising is equally plugged-in, quirky, humble, and self-depreciating.
But IKEA's biggest win is its value innovation. Like EasyJet or Blue Apron, IKEA successfully introduced a new value curve in its category. The company identified the way to profitably make design that's good and accessible. For the first time ever, customers had to assemble the furniture themselves.
Before this value innovation, delivering a fully assembled furniture was considered essential in the category (in the same way that airlines have always offered service bundles and meal delivery always delivered already made meals). Transportation of the already assembled furniture hikes up the costs and complicates the value chain, so IKEA sacrificed this facet in order to offer unprecedented price/quality ratio that shifted consumer preferences.
There are three categories of IKEA's value innovations:
Culture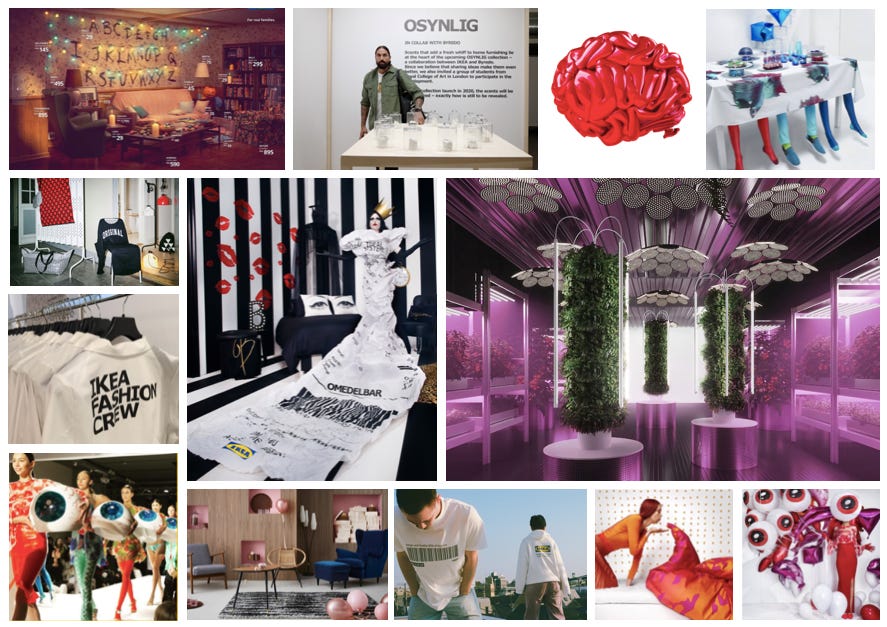 Collaborations that target collectors, curators and hypebeasts are the source of IKEA's aspirational power. Cultural collaborations flex IKEA's zeitgeist muscle and turn experiential benefits of owning an IKEA into a new source of growth. They bring in the new audience who wouldn't otherwise consider the brand.
Examples: Zandra Rhodes, Nada Debs, Ilse Crawford, Katie Eary, Chris Stamp, Bea "B." Åkerlund, Saint Heron, Sarah Andelman, Ben Gorham, Sabine Marcelis, Daniel Arsham, Humans since 1982, Stefan Marx, Maroussia Rebecq and Gelchop.
Modern Life

Collaborations that target the brand's existing customer base to respond to evolving circumstances of use. They introduce products and services focused on specific situations, like living in an extremely small space, exercising at home, being a gamer, or playing LEGO with your kids.
Examples: Adidas, LEGO, UNYQ, Sonos, NASA, Space10.
Social Good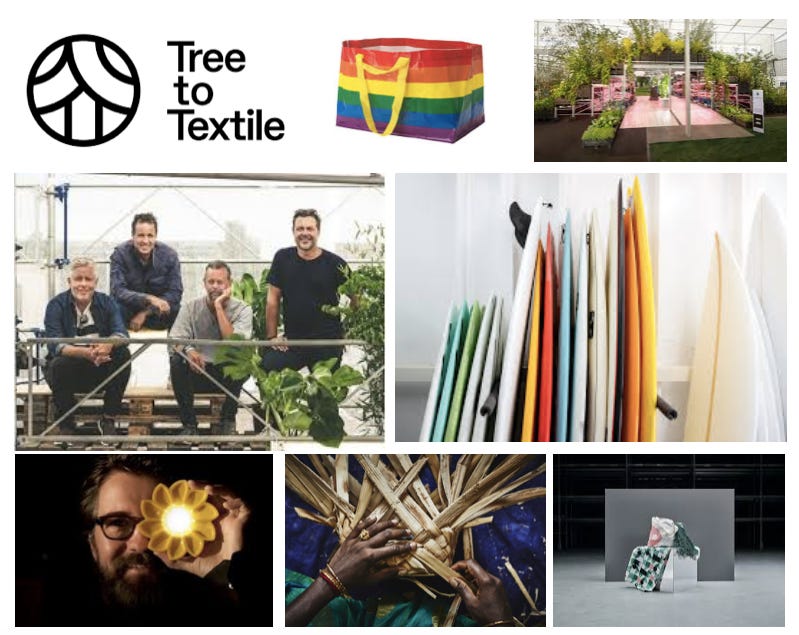 Collaborations that target society, communities and environmentally-inclined customers reinforce the brand's desired role in the world. They introduce social and environmental benefits and represent a new source of growth through investment in sustainable development and materials innovation.
Examples: World Surf League, Little Sun, Musselblomma collection made of recycled plastic collected by Spanish fishermen in the Mediterranean Sea.
---
In the episode 10 of the Business of Aspiration, I spoke with Giana Eckhardt, Professor of Marketing at Royal Halloway University of London. Giana has written extensively about sharing economy, modern luxury, brand storytelling, and the new dynamics of status and distinction. We talked about authenticity of invented heritage versus "true" heritage through examples of Ralph Lauren, Shinola, Stella Artois, Hermes and Chanel, and we called out key branding moments for each. Check out Giana's work here and watch our conversation below.
---
My book is coming out on October 27th. It's about what happened to taste, communities, and social influence when the economy shifted from manufacturing things to manufacturing aspiration and how this changes what we find valuable and worth paying for. You can pre-order here or check out the book's website here.