Can luxury brands hack their own growth?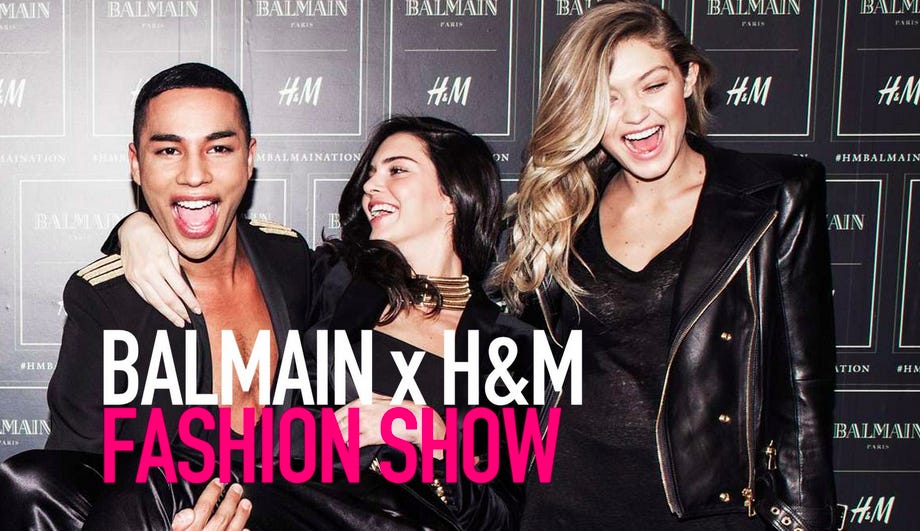 Originally published in The Guardian on November 3, 2015
When Olivier Rousteing of Balmain opened his Instagram account in 2012, he was among the first creative directors in luxury fashion to do so.
Rousteing's "Balmain army" — a group of his personal friends who also happen to define the cultural zeitgeist of today — has become as known as his designs. This army includes, among others, Kanye West, Kim Kardashian, Gigi Hadid, Kendall Jenner, Rihanna and Justin Bieber. Their combined Instagram footprint: upward of 170 million, Chanel's is 7.5 million.
But the who has the most Instagram followers game isn't interesting in itself. What makes it interesting is that Balmain's reach, cultural relevance and sales all kept consistently increasing since 2012 — all with a little traditional marketing investment. This is what makes Rousteing a growth hacker.
Kanye West, Kim Kardashian, Olivier Rousteing, Kendall Jenner and Kris Jenner pose after a Balmain show at Paris fashion week 2015. Photograph: Michel Dufour/WireImage
Growth hacking in luxury fashion refers to using data, content, customer relationship management (CRM), product development and existing social networks for growth. Smart brands in luxury also piggyback on models' social graphs, booking for the runway shows those with a social followings of more than 1 million.
This cost-effective, customer-centric and micro-approach to business and brand growth is still rare in luxury retail. It is not rare among the upstarts who are looking to disrupt it.
Maud Pasturaud, vice president of growth at Spring, a luxury shopping app, is obsessed with her team's use of data, iteration of the app's features and with working with brands to tweak content for the app and its email newsletter in order to drive more conversions.
Sign up today and receive exclusive member newsletters, networking opportunities, member-only discounts and more.
"Winners today are defined by their CRM," Maud told me when I met her for coffee near Spring offices in Soho, New York. "Next generation CRM is looking at coordinating the three key communication channels on mobile: email, push notifications and in-app messaging. There are two important things here: knowing what to offer and who to target with what messaging."
To be effective, notifications need to be contextual. Mobile is perfect for delivering these time-sensitive offers. "Notifications are a powerful, but hard medium," she adds. "Relevancy is key. If done well, notifications can bring a lot of traffic and a lot of revenue." They keep driving users back to products.
Spring's mantra is to build the best experience for user. In that, they are not alone. Rent the Runway, Net-a-Porter, Zady or Everlane also obsess over understanding their users, and optimising all elements of their experience.
In luxury fashion, it takes an unapologetic innovator such as designer J.W. Anderson to promote this customer-centric view. "The consumer is first — no matter what," Anderson said in an interview with WWD. "There is nothing that drives me more than the excitement of consumers than going on Instagram and seeing whether people like certain things — and what they don't like. Instagram is a really good barometer, and one of the most powerful mediums out there."
Still, there are those who don't see business value in a luxury brand's massive social following. Rousteing acknowledges that not all of his millions of followers can actually buy Balmain — but that's not the point. Instead, it is about the ability of modern luxury fashion designers to speak directly to their global audience and, by giving them content that inspires them, to capitalise on this existing customer base's future purchase potential.
In the meantime, there is H&M. This fast fashion retailer represents another growth hack for luxury brands. It has collaborated with everyone from Margiela, Stella McCartney to Karl Lagerfeld — and now Balmain — all of whom benefited from promotion, TV spots and magazine ads that accompany these collaborations.
Getting luxury retailers to obsess over micro-, cost-effective and human-centered optimisations in their growth seems far-fetched today. They still care more about PR releases, new store openings and incessant production. But shrinking marketing budgets and tiny in-house marketing teams may force them to change their mind. Data, CRM, consistent social presence and strong content strategy combined with impeccable service are all good starting points in this process. Today, scaling growth is all about focusing on better understanding and retaining your customers — and in that, there is nothing better than digital networks.