From Social Affordance to Lifestyle
Letter from Japan: Why Muji beats Louis Vuitton in the lifestyle game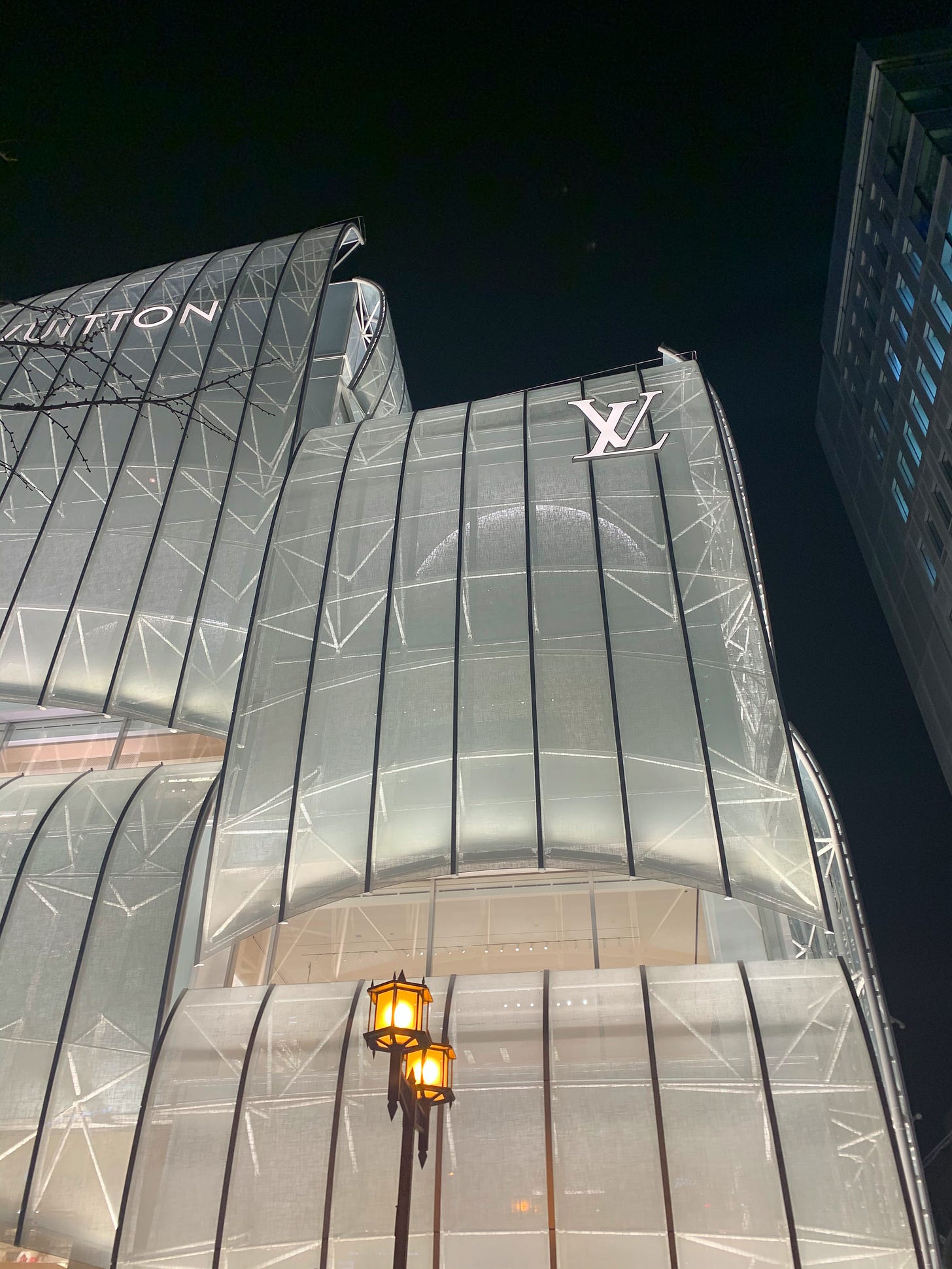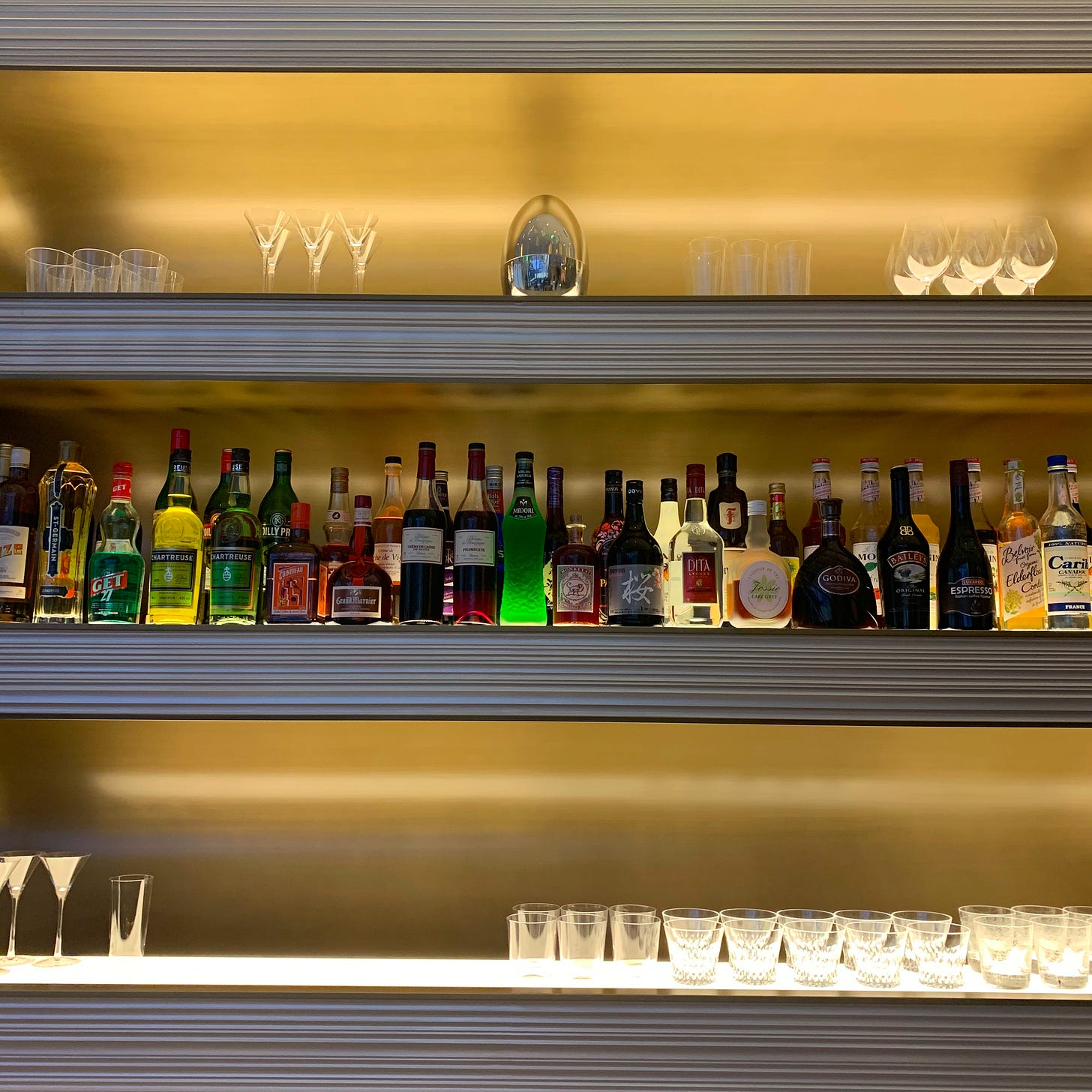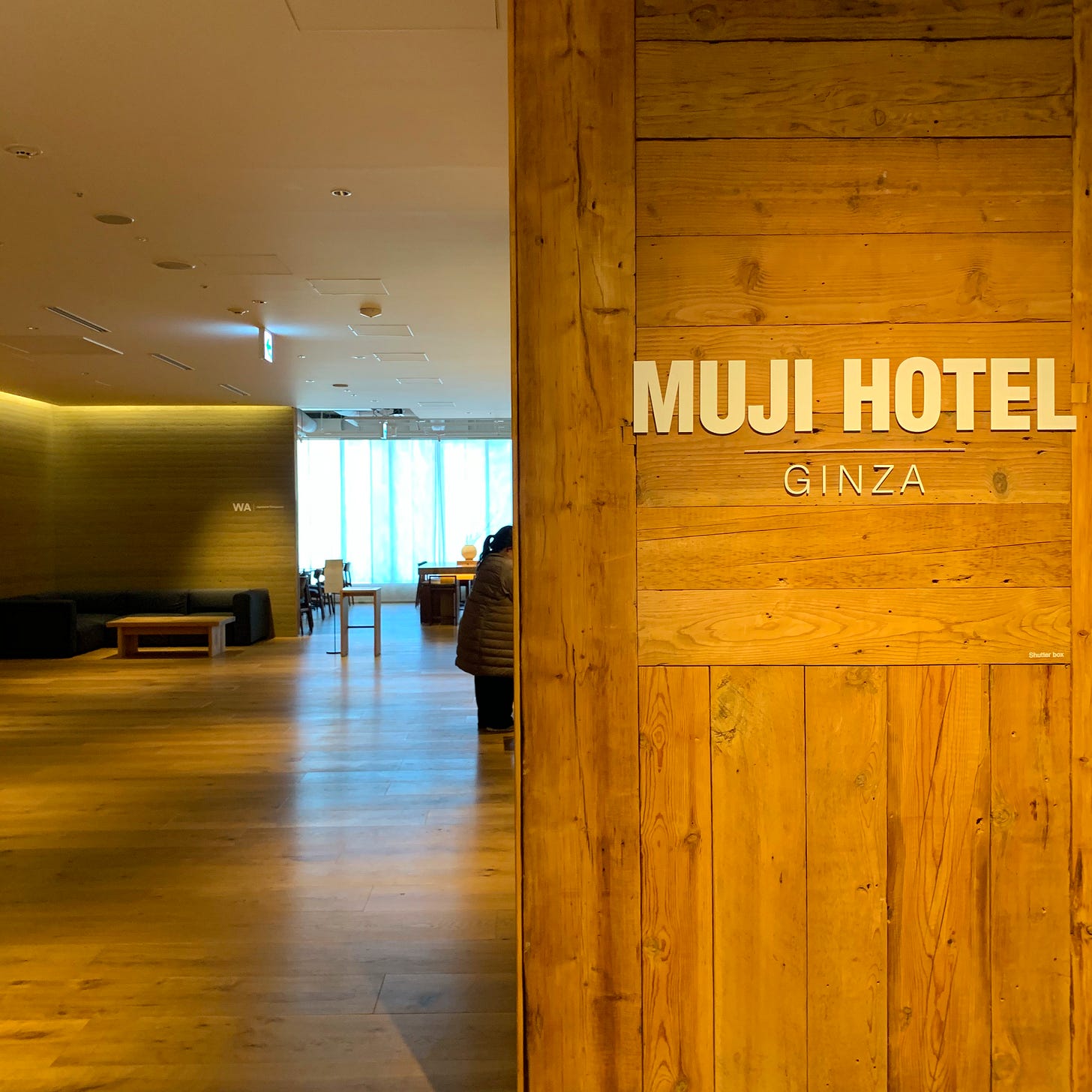 On a Friday afternoon in Osaka, I stopped by the new Louis Vuitton flagship. Much talk has been made of LVMH's foray into hospitality, and of the Louis Vuitton's first-ever cafe and a restaurant in particular. I was intrigued.
And indeed, the building is distinctive enough. It features a facade made out to look like the sails of a the traditional Japanese Higaki-Kaisen cargo ship, a nod to Osaka's naval history. But take the elevator to the 7th floor to Le Café V, and you'll find yourself in much less impressive setting. The space is stuffy and suffers from the conflicting aesthetics and a very 80's vibe (and not in a good way). The terrace has no view but a lot of Tiffany blue chairs. I completely missed the artwork by Tracey Emin despite (or maybe because) it was placed right in front of the elevator. The crowd is mostly clad in LV garb and wasn't particularly sophisticated. Tourists mingle with provincial businessmen. Most people seemed to be there so they can take an Insta (myself included).
All of this seems to be exactly the purpose of this establishment, and of many more to come per LVMH's ambitions. One doesn't go to a Louis Vuitton restaurant for the food or cocktails; they go there to show and tell.
It's great to claim that this is all in the name of the brand projecting a lifestyle, but let's call spade a spade: taking a photo in LV cafe signals status in the same way that a LV bag does. Louis Vuitton having a restaurant just confirms what LV already is: a traditional status-signaling, high-end fashion brand. It's not a reflection of one's lifestyle, but of their social affordance.
In the modern aspiration economy, social affordance is accrued in the same way that material goods are, but in the social domain: a significant social following, a carefully curated online persona, a witty social copy, meticulously composed Instagrams or as many Insta stories from global locations/events/experiences as possible.
Both lifestyle and social affordances reflect a shift in spending patterns from tangible goods to intangible service and experiences, and this makes it easy to confuse them. Modern brand strategy is to blame: in the flattened modern aspiration landscape, where retail, hospitality, media and entertainment, experiences and service are all mixed together, proclaiming a company to be a standard-bearer of a lifestyle is seen both as a competitive advantage and a wider reason for its being.
Categories from cooking to drinks to activewear to grooming to interior design all offer great social affordances in the modern aspiration economy, but few manage to reach the level of a lifestyle.
In contrast, take Muji, which grew into a brand that provides an actual lifestyle. I had the opportunity to experience it first-hand when I stopped by its new store-plus-hotel in Ginza. The hotel is a seamless part of Muji's retail establishment and is easily accessed via escalators that connect all of the floors. It's a minimalistic, low-key setting with a lounge, a bar and a lobby, all in warm walnut tones. The vibe was welcoming, functional, and meticulous, just like a brand itself. There were some guests checking in, but no one cared to take a photo (except myself) or lingered just to be able to tell they were there. One can say that this is because Muji isn't a status marker of LV's magnitude, and that's exactly the point: it is a lifestyle brand, not a social affordance.
Having a catchy mission statement, sans serif font, Instagrammable packaging, a retail "experience," a photo aesthetic, or <insert here> doesn't turn a brand into a lifestyle. Only a consistent and honest philosophy and ethos, service, high quality, and sensible pricing does. This is neither new nor original, but when it comes to it, most brands still have a long way to go.
Building a lifestyle brand is not the game of tactics, but of strategy, and it goes beyond fonts and selling food and drinks together with bags. Here are the three good starting points:
Define your role. The first step in having a successful lifestyle strategy is to define what business, brand and audience objectives it is working towards. Every single brand action then needs to convey this. Muji's philosophy is focused around a direct relationship between the product and the person, not between the brand and the customer. Muji's name, "Mujirushi Ryōhin" or "no brand quality goods," reflects this intention. Muji rooted its growth in the premise that "Muji is enough" and as a backlash to the 1980's Japanese brand obsession and opulence. The company recognized that consumers do not need more loud logos and replaceable products in their lives - they need superior, honest, affordable design that lasts.
Define the ABCs of your story. A perfect story resides at the intersection of: A) audience passions and interests, B) brand values and purpose, and C) cultural mood. Muji rooted its narrative into Japanese lifestyle, and as this lifestyle evolved and changed, so did the Muji stores and its offerings: stores started dubbing as libraries, tea rooms, restaurants, public places and, most recently, there is a Muji hotel to reflect the growing mobility of the Japanese.
Connect it with everything else that you are doing. Omni-channel is hard, mostly because it requires a single customer point of view and a centralized data bank. More often than not, a standardized system for evaluating disparate data points along the customer journey is missing. The customer journey itself also often still serves as a narrative, rather than a path of attribution. The data that is measured needs to evolve as well to include not just sales data, but all points of the customer journey, such as store visits, online sales, and volume and sentiment of social media mentions. Instead of silos, retail touch points need to be thought of as a network, where each touch point influences and drives revenue for others. For many retailers, stores went from being a one-dimensional, isolated, sales channel to being one-dimensional PR channels. Omni-channel requires a radical rethink of the purpose of the store in the customer shopping journey and the right organizational model and cost structure to support it.
The modern aspiration economy trades in intangibles, and this opens a new competitive field. In it, there are still too many brands playing the new game with the old rules. They trade in the external codes of an aspirational lifestyle, but not in the lifestyle itself. A true lifestyle brand's value is intrinsic and has nothing to do with showing off.
Term:
Current obsession
Deepening submarine bar Shinka in Osaka, made completely out of submarine parts. The owner said it took about six months to build — the communication wasn't great —- and features details ranging to various pressure measuring instruments to a diver's suit to a working rotary phone. The entire bar has a capacity of six, maybe eight if they're very small. There are places like Shinka everywhere in Japan. The amount of meticulous care put into creating something that's effectively a hobby cannot possibly be realized in financial output. (A drink at Shinka cost $10.) But that is, in many ways, beside the point. The creator of Shinka isn't trying to franchise out the concept (don't expect a Shinka Vegas anytime soon). Instead, he is sharing his passion with a selected few.
Related reading:
The experience economy is blurring the lines between hospitality and retail
The immersive retail experience is getting in the way of purchase