Discover more from The Sociology of Business
A global analysis of how changing values change business.
Over 26,000 subscribers
I write weekly newsletter about how the new forms of social, cultural, and environmental capital change brand strategy. This newsletter has been selected as one of the best single-operator newsletters on the Internet. If you enjoy this issue, you can pre-order my book, share this newsletter with anyone you think may find it useful, and subscribe below: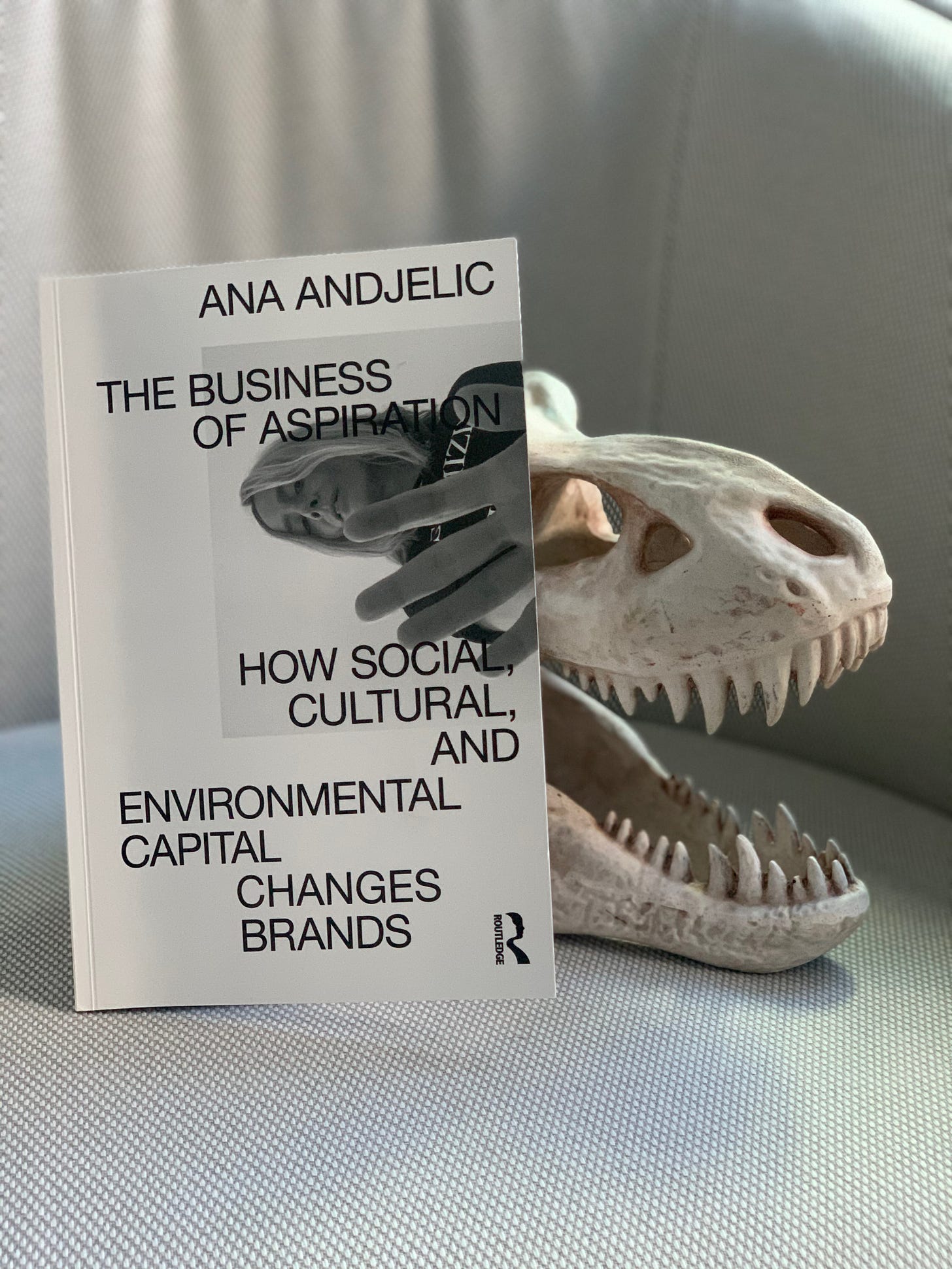 The Business of Aspiration drops tomorrow. It's available on Amazon globally, Barnes&Noble, Books a Million, eBooks, Waterstones, Fruugo, VitalSource, the publisher's website, etc. If you prefer to support local bookstores, and are in New York, you can also find the book at McNally Jackson, Books are Magic, Powerhouse, Greenlight, Community Bookstore in Park Slope, Book Club in East Village, Little City Books, or Bravo's Book Nook on MacDougal, among others. 
Thanks to The Business of Aspiration, I started this newsletter. It was as a way to force myself to write every week.
Thanks to this newsletter, I have been meeting a large and growing community of fascinating people who are the pioneers of the modern aspirational economy or, who want to learn more about it and apply it in their jobs. I am not sure I would have met a lot of you otherwise, and without you, I wouldn't have been motivated to write The Business of Aspiration and start the YouTube series of the same name.
Without people, there are no stories, and without The Business of Aspiration, I wouldn't have had this community. For this, I am grateful.
Here are the things I learned along the way:
Start with empathy for a particular group of people. A good number of newsletter writers/brand founders/entrepreneurs are part of their target audience, and they fill a gap that exists between what they look for and the market is offering. The outcome is that the audience feels like there's nothing out there like the brand/startup/newsletter they subscribed to.
Think of yourself as a brand, not just as an asset. Ventures that have a clear brand purpose achieve double brand-value growth than companies that are focused purely on profit generation. Brand equity sets and protects premium pricing. It also protects market share by creating a clear differentiation versus the competition. Brand clarifies decision-making criteria and guides new growth opportunities, operations and communication. It allows a venture to evaluate whether a specific business action or investment moves it closer to its vision.
Distribute your expertise in a new way. Today, survival of companies and individuals depends on their ability to package and deliver their expertise beyond their original business model. What once was a value-add is now their lifeline. This means that we all need to lean into our own expertise - be it strategy, creative, operations, craftsmanship, art, finance, management or operations. Every company (or a person) has a number of areas of expertise. Capitalize on them.
Lean into your imagined community. Most of our institutions are built for, and around, individuals, with narratives and ideologies of individual freedom and competition to match. But humans are not only individuals, they also belong to communities and are members of a society. "We'll design your book cover," said Manny and V, and they did.
Prioritize identity over positioning. Focus on building your own creative identity versus comparing yourself to others. Operate according to the economics of singularities and grow by gradually building your own incomparability. This approach ensures both high differentiation and high durability, and there are two reasons behind it. Kanye doesn't compare himself with Nike or Prada; Damian Hirst doesn't compare himself with Andy Warhol. You are in the business of selling style, intelligence, knowledge, creativity or passion. You are a cultural magnifying glass for reading the world.
Combine creative and commercial operation. You are part of the culture industry and a link between your customers/readers/fans and the worlds of art, spirituality, humanity, style, values, creativity, or a specific history, subculture, or neighborhood vibe. Operate as a creative entity, an educator and are the ambassador of the best in your field.
Create fans before you create customers. Aim to be widely known beyond your target audience and familiar to those who do not consider your products/services/content yet. In traditional marketing, communication is obsessively focused on the current and potential customers, and any media spend beyond that is considered a waste. In contrast, strive to communicate in order to build a cultural link and establish yourself as a social indicator (like GOOP did), a symbol of good taste (as Monocle did), a creative savvy (as Nike did), or originality (as Peloton did). In today's expanding competitive universe, products, services and experiences are all comparable in value: a weekend in nature can be equally desirable as a bottle of vintage bourbon as a pair of sneakers or as a meditation class. Wide familiarity is the only way to become part of consumers' initial consideration set.
Having a lot of followers is not a cultural voice. A cultural voice is someone who's earned their stripes and not just tells a tale. A cultural voice is achieved through dialogue and an exchange with others.
Think of your community in plural and grow through the niches. Across retail, media and entertainment, socializing and travel, we are witnessing the opposite of a "bigger is better" model. It seems that we want to shop, entertain, and socialize in the same way we did at the turn of the last century, before the mass media. Rather than trying to cater to a mass audience in a superficial way, go deep and narrow in pursuit of niches. Aggregate these niches without reducing the product differentiation that attracts them all. Create many doors into your brand.
Consider accidental influencers. Thanks to social media, everyone is (or can be) a tastemaker and content creator. As the allure of influencers fades and we start to recognize the growing influence that comes from ordinary people, consider creating a community as a core brand building strategy.
Avoid RBB (Rapid Brand Building). Scaling is doing things that don't scale. Rather than starting from social media and search ads, opt for growing slowly and steadily, building a direct, human, personal relationship with each of your readers/customers/fans.
There are no shortcuts. This is something that we all know, but love to pretend to forget. Do the work, walk the walk. Trust requires time. Consistently deliver to establish a shared understanding of the "general conditions of exchange," as the founder of sociology Emile Durkheim put it. Tone of voice is not a brand. Being chatty, witty, and approachable often masks the missing cultural link that ensures brand durability. It also masks the missing brand mission.
Change comes from the marginalized. Those excluded from the game usually understand better what the game's about than the insiders. There's a current momentum behind those neglected or insufficiently served by the society, culture and economy. They are proving that stuff that happens outside the established industry structures is the stuff that matters: new designs, new narratives, new presentation formats, and new business models. Don't play by the rules of the game you're disrupting.
Brand affinity is created socially, not economically. Belonging to a community advances a person's social, cultural, and environmental capital. Knowledge, taste and expertise are modern class distinctions. 
---
On October 12th, Highsnobiety published my special report: Creativity is dead, long live curation as part of their Q3 quarterly insight week, dedicated to the business behind youth culture and what makes youth market tick. You can read the report here or head over to Highsnobiety's Q3 hub to see the full series. Big thanks to Christopher Morency for his editorial suggestions.